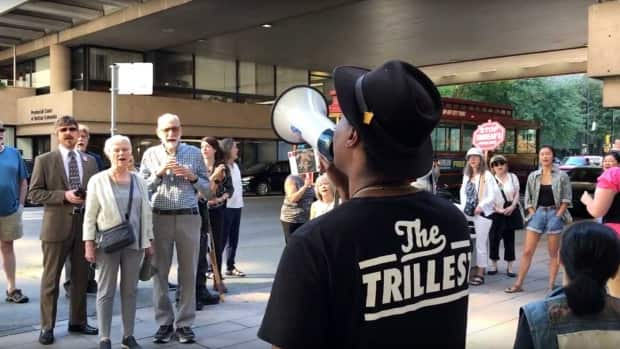 [ad_1]

A couple of dozen anti-pipeline protesters rallied outside B.C. Supreme Court in Vancouver on Monday morning.
They were there to mark the end of the trial of the first 28 protesters arrested for blocking access to the Kinder Morgan work site on Burnaby Mountain on March 17.
Previously the Crown has recommended that 15 of those who were arrested peacefully and pleaded guilty to criminal contempt charges for blocking access to the site be given a $500 fine or do 25 hours of community service.
It's not yet known what sort of sentence will be given to the 13 other protesters who pleaded not guilty. The judge is expected to hand down their verdicts and possibly their sentences Monday afternoon.
More trials to come
Another trial for four other protesters was also scheduled to get underway Monday. It will be the second in a series of trials expected to wind their way through the court during summer and into the fall.
Altogether, 202 protesters are facing criminal contempt charges and they could face an escalating level of fines.
For those arrested between April 17 and May 8 who plead guilty, the Crown is recommending a $1,500 fine or 75 hours of community service.
For those arrested between May 9 and May 28 it jumps up to $5,000 or 240 hours of community service.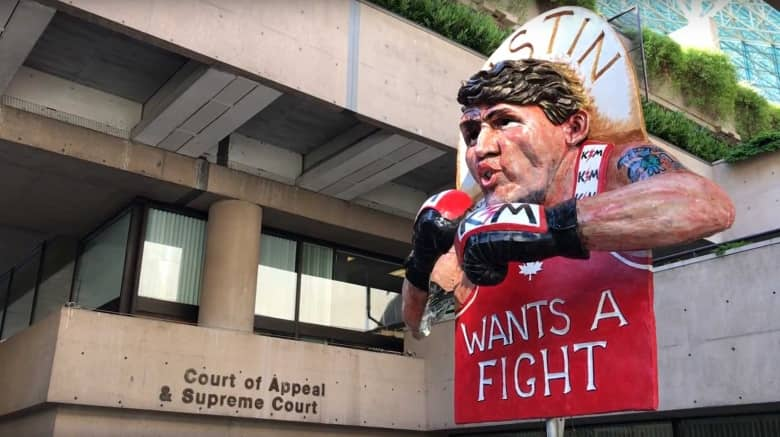 One of the signs at the protest targeted Prime Minister Justin Trudeau for his government's recent decision to purchase the Trans Mountain project from Kinder Morgan. (Mike Laanela/CBC)
Legal support coordinator Kris Hermes says no protesters have been arrested since the Crown raised the sentencing recommendation to seven days in jail for anyone arrested after May 28.
"The Crown is clearly escalating its attack on anyone protesting at the site and it has had an effect of eliminating protests outside the Kinder Morgan worksite," said Hermes.
About half a dozen protesters are also facing criminal code charges for assault, mischief and obstruction of a police officer, said Hermes.
[ad_2]