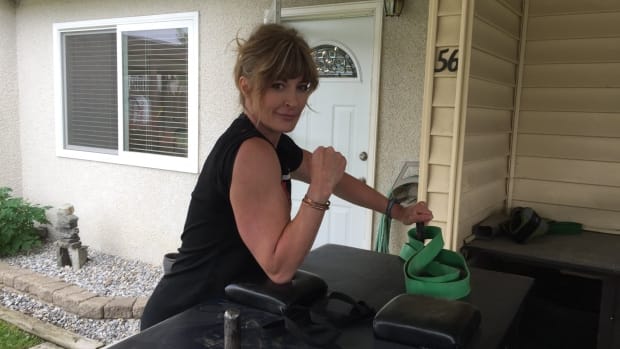 [ad_1]

A Kamloops woman is travelling the world thanks to her strength of steel and recent career switch to professional arm wrestling.
Angie Rose just signed a five-year contract with the World Armwrestling League and this week flew to Cleveland for an international competition.
"There's a lot more to [arm wrestling] than people even realize," Rose said. "There are minute little movements that can be devastating to your opponent, little techniques that make all the difference."
Rose may have just been signed professionally, but she is no newcomer to the sport.
She grew up arm wrestling against the boys in her elementary school and then started competing — and winning — at tournaments around British Columbia when she was in her late teens.
"I was a bit of a tomboy back in the day, I grew up in the country," she told CBC's Jenifer Norwell.   
"Being strong was always important. You had to be strong to do some of the things you do on a farm."
Return to the sport
After marrying and having children, Rose drifted away from arm wrestling for 16 years.  
Watching a reality television show called Game of Arms reignited her passion, she said, and brought back "that itch, the competitive fire in me."
She immediately signed up for a tournament.
"When I first sat my elbow on that pad of that table, I felt like I was home," she said. "It was a sport that fit me to a tee."
The more difficult the challenge and the more technical the planning that goes into a competition, the more Rose enjoys it.
"When you're up there and grab on to your opponent's hand, your adrenalin can be through the roof," she said. "But you have to keep that in check because you have to focus."
Rose will be competing professionally with the World Armwrestling League for the next five years, meaning that some of her expenses will be paid and she'll have the opportunity to win cash prizes at competitions.
Read more from CBC British Columbia.
With files from Daybreak Kamloops and Jenifer Norwell.   
[ad_2]