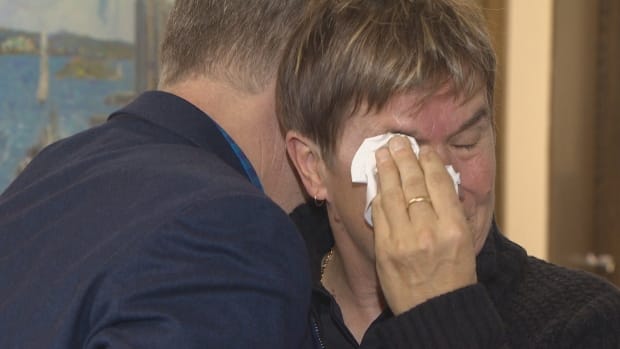 [ad_1]

A federal court justice has approved a settlement for Canadians who were persecuted or fired due to their sexual orientation while in the Canadian Forces, RCMP and federal civil service between 1955 and 1996.
Alida Satalic of Dartmouth, N.S., who was dismissed from her post as a Canadian Forces postal clerk in 1989, was in Ottawa Monday for the federal court hearing.  
"Happy, happy day.… It's a way on to healing. The apology was one thing, but this is even more," she said.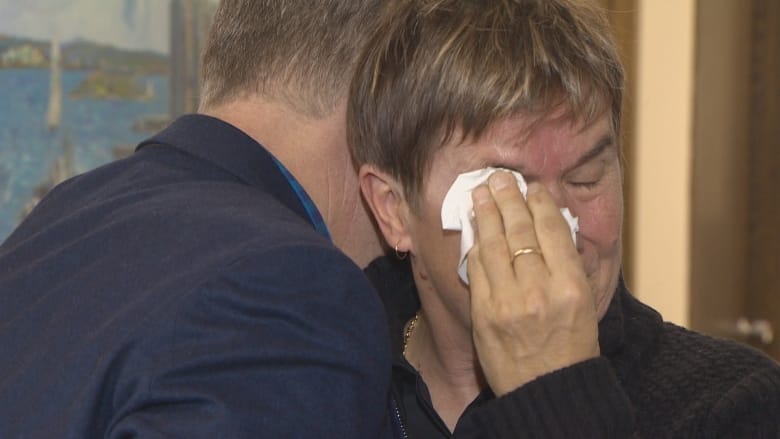 Alida Satalic receives a hug from her lawyer John McKiggan. (CBC)
The 57-year-old was the lead plaintiff in a class action lawsuit on behalf of all LGBTQ Canadian Forces members who served in Atlantic Canada.
That lawsuit was merged with other class action claims on the road to today's settlement.
Satalic's lawyer, John McKiggan of the Halifax law firm McKiggan Hebert, said it is the largest LGBTQ settlement anywhere in the world and will involve between $85 million and $145 million in compensation.
Halifax lawyer John McKiggan launched a class action lawsuit on behalf of military members who served in Atlantic Canada and were investigated, harassed and purged from the military between 1969 and 1995. (CBC)
McKiggan said the final amount will be determined by how many Canadians step forward to make claims. Beyond individual compensation, there is also money for education and reconciliation, he said.
Claimants can also request individual apologies and ask that their employment records be amended to reflect they were unjustly fired without cause. They will also receive the Pride Citation, to reflect that they served Canada while suffering discrimination.
McKiggan said today's hearing had to be held in the building housing the Supreme Court of Canada because so many class members wanted to attend.
He estimates there were between 50 and 100 people in the courtroom to hear former military and RCMP members testify about the harassment and disciplinary action they faced due to their sexual orientation.
Satalic did not speak, but filed an affidavit describing her treatment.
She said she was deeply touched by what she heard today in court.
"Different people were speaking about how they were persecuted in the military," she said. "I got teary-eyed so many times. You know, a lot of the stuff people are talking about I can relate to. The same thing happened to so many of us."
Alida Satalic was interrogated and had to undergo a medical examination to determine if she met the military's definition of homosexual when she worked as a postal clerk at CFB Trenton. She accepted a release from military service designating her 'not advantageously employable' in 1989, according to court documents. (Supplied/LGBTPurge.com)
Satalic trained as a truck mechanic when she joined the military in 1983.
She nearly quit due to harassment and intimidation from her instructors and all-male classmates.
She later became a postal clerk in Trenton, Ont., and was investigated and interrogated by the military's special investigations unit in 1989.
Because she admitted to being a lesbian, she was denied the top-secret clearance she needed to advance in her post, and was denied access to all future training. Instead, she opted for a medical discharge.
Satalic rejoined the military in 1994 after the military's ban on homosexuality was officially lifted.
Read more articles from CBC Nova Scotia
[ad_2]