[ad_1]

The community of East Hants, N.S., will soon have its first off-leash dog park, thanks to the efforts of a small group of determined dog owners.
Construction began Friday on a 0.6 hectare abandoned soccer field behind the Elmsdale Legion.
"I can't wait," said Vanessa Powell, the owner of six dogs and one of the locals behind the project.
"They'll have somewhere they can race around, and wear themselves out and just be happy dogs."
There's a "huge" demand for an off-leash dog park in the area, according to Christine MacKellar, another one of the campaigners.
Until now, the nearest off-leash dog park was located more than half an hour drive away in Truro or Halifax. Unlike many small communities in Nova Scotia, East Hants is bucking the population trend and is growing in size, with a number of new families, and pets.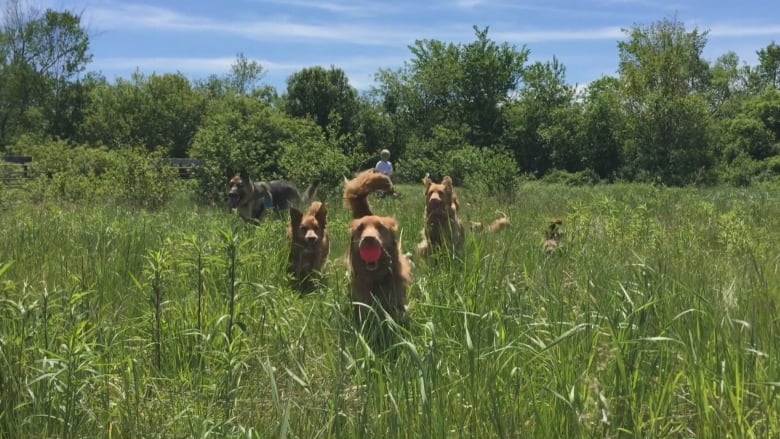 This abandoned soccer field will soon become an off-leash field of dreams for these dogs. (Marina von Stackelberg/CBC)
"We have an expanding population. A lot of people are bringing in their fur babies," said MacKellar.
Along with families, East Hants also has many seniors who own a dog, but live in apartments that don't provide a large or safe spot for them to exercise their canine companions, said MacKellar.
"I can bring my dog here, and know they're in a safe environment, and will not run out in front of a car and get hit."  
There's been huge support from the community for the project, according to MacKellar.  
"Even cat people are happy that we're doing this," she said, because it means dogs won't be running around the community chasing cats. 
The nearest off-leash dog park for East Hants residents is in Truro, or Halifax. (Marina von Stackelberg/CBC)
Park will be community hub for people and dogs
MacKellar's group campaigned over the last 18 months to make the dog park a reality, fundraising more than $10,000, garnering $12,000 in sponsorships from local businesses and applying for a municipal grant of $24,000.
The Legion also agreed to lease the land behind their building for $1 per year.
The park will include a fenced in area for both small and large dogs, benches, and a memorial wall where people can purchase a dog tag to honour their dead pets.
Christine MacKellar shows off the plan for the new off-leash dog park. (Marina von Stackelberg/CBC)
"We'll have stations set up for the waste. We'll have benches where you can sit down. And hopefully planters with flowers," MacKellar said.
"So it will be a social meeting place for not just canines, but humans as well."
The hope is to have the park completed by the end of the summer, which will be free to use and open from daylight to dusk.
"Once the dog fence is up and the land cleared, then we can let the dogs in," she said. 
"We'll work around them to do the rest of it and make it look pretty. The dogs don't care if it looks pretty, but we do."
Read more articles from CBC Nova Scotia
[ad_2]