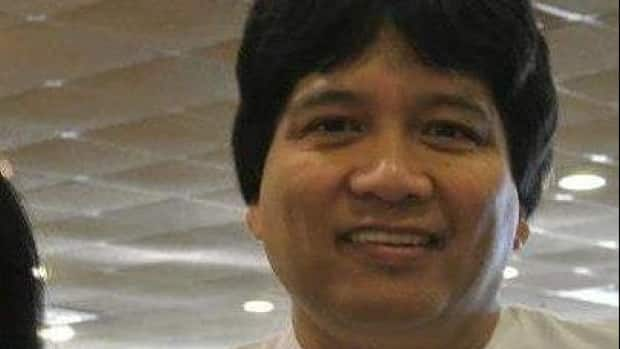 [ad_1]

Police have wound down their search for missing Winnipeg man Eduardo Balaquit in towns north of the city, a police spokesperson said Monday morning.
But the day after Father's Day, Edward Balaquit said he is working with Manitobans in the Riverton and Arborg area to keep searching for his father.
"You know, Father's Day was yesterday. It was a tough one. You see families walking around, you know, enjoying time. You get a little jealous that you had that," Edward said.
Edward Balaquit says family and the community members will continue looking for his father after police ended their active search in the Arborg, Man. area. (Walther Bernal/CBC)
Although the police ground search has wrapped up, Balaquit's family and rural community members will continue to comb over farmlands and along gravel roads in hopes of finding signs of the 59-year-old who disappeared two weeks ago.
"Word has spread like wildfire," Edward said. "Everyone is checking their properties and everyone is spreading the word and keeping their eyes open."
Last week, police, the Bear Clan and community members scoured the region 115 kilometres north of Winnipeg after investigators moved the search for Balaquit outside the city. Hundreds of volunteers have helped, Edward said.
Balaquit was last seen June 4 near 380 Keewatin St., where he was supposed to do janitorial work, but it appears he never started.
Investigators believe Balaquit was a victim of crime. His van was found near his workplace with a smashed passenger window, his cellphone on a seat and some personal belongings scattered on the ground.
Const. Rob Carver said at a Friday news conference that search activities in the Arborg area were tapering off, but police didn't provide an update on their findings, citing the ongoing investigation. Carver said he wasn't aware of any new search location.
The lack of search efforts does not mean that "we are stuck or have pulled back," Carver also said Friday.
Police have said they aren't aware of any ties between Balaquit and the Arborg area.
'Whatever helps to get my dad home'
But the fact police aren't actively searching the area doesn't necessarily mean they're no longer interested in Arborg, Edward said.
Edward said he understands the lack of information from investigators is caused by a desire to keep the investigation from going awry.
"Whatever helps to get my dad home."
Edward feels searchers are looking in the right area as they try to piece together the puzzle.
Balaquit was last seen wearing a black sweater, black pants and black shoes June 4 in the Amber Trails area, police said. (Supplied by Winnipeg police)
Community members are helping to recruit volunteers and set up proper equipment, such as quads, to search expansive fields, he said.
"Not knowing where your loved one is, it's a special kind of hurt that I don't want anyone to understand."
Eduardo Balaquit is 5-foot-4, 155 pounds and has a medium build. He was last seen wearing a black zip-up sweater, black pants and black shoes in the 300 block of Keewatin St. on June 4 between 6 p.m. and 9 p.m.
Anyone with information regarding his whereabouts is asked to contact police at 204-986-6508 or Crime Stoppers at 204-786-8477.
The family also encourages anyone with information to reach out to them directly at 204-298-5171 or 204-510-5170.
[ad_2]