[ad_1]

Fredericton motorists aren't the only ones enduring headaches as a result of summer road construction.
The general manager of the downtown business improvement organization says the business community is also feeling the pinch, claiming owners have been left in the dark and are losing money.
"It's awful," said Bruce McCormack of Downtown Fredericton Inc., following Tuesday's city transportation committee meeting.
McCormack said the City of Fredericton has not properly communicated with businesses. He said they could have better planned around the periods of congested traffic and loss of parking spaces if given sufficient notice when the intersection at Regent and Queen streets was closing.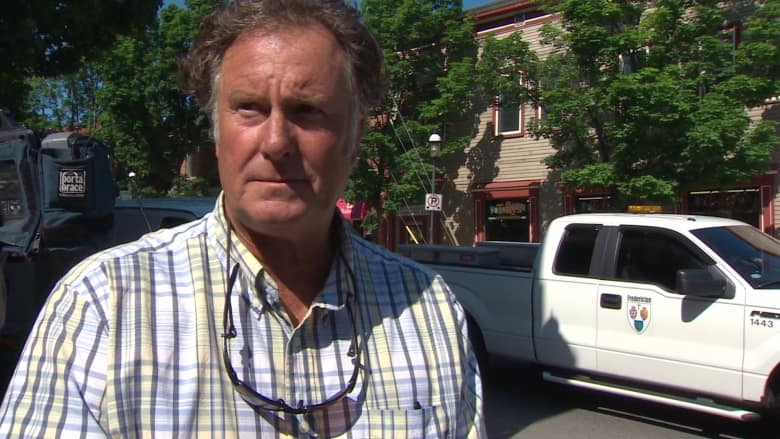 Bruce McCormack, general manager of Downtown Fredericton Inc. says the city did not give the business community enough notice about summer construction projects downtown. (CBC)
He said they found out less than 48 hours before construction began downtown and were told it would last about four days. After Tuesday's meeting, McCormack said it's now going to be about four weeks by the end of June.
"We realize that construction has to work and we need that infrastructure, so we're willing to work with the city, but we need to know the information," McCormack said.
"There's got to be a balance."
After a recent meeting with restaurant owners, he said the construction has cost them more than $100,000 combined.
McCormack said they're hopeful the city could be flexible with its schedule, from longer hours in the evenings to working on Saturday.
Park and ride service
There are 22 major construction projects happening in Fredericton this summer. One of the most significant is the renewal of sewer mains along St. Anne's Point Boulevard, which will close the major artery for 11 weeks.
City engineer John Lewis outlined five more major construction projects — Smythe Street, Forest Hill Road, Lincoln Road, Riverside Drive and Sunset Drive — that will take place over the next several weeks.
The city is introducing a park and ride service Wednesday to ease traffic congestion and make the downtown more accessible.
[ad_2]