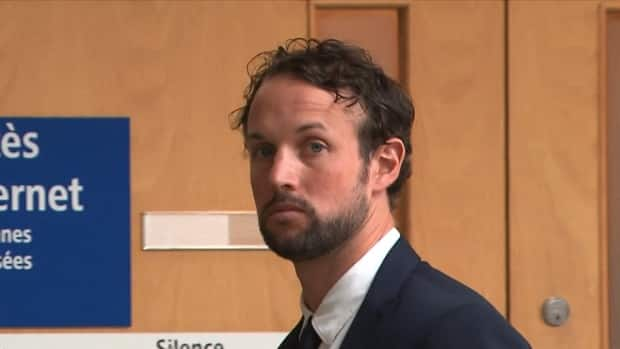 [ad_1]

The lawyer for Patrick Ouellet, the Sûreté du Québec officer charged with dangerous driving causing the death of five-year-old Nicolas Thorne-Belance, focused on the driving behaviour of the boy's father in her closing arguments Wednesday.
Nadine Touma asked the judge to consider whether Mike Belance made driving errors on the day that her client plowed into Belance's vehicle in an unmarked police cruiser.
Ouellet was tailing a politician as part of of a surveillance operation targeting provincial corruption in Longueuil in February 2014.
He was driving more than 100 km/h in a 50-km/h zone on Gaétan-Boucher Boulevard in Saint-Hubert when his cruiser smashed into Belance's car as it was turning left.
Ouellet's car struck the rear passenger door, on the side in which Nicolas was strapped into his car seat.
The boy was critically injured and died later in hospital. 
Earlier in the trial, Ouellet testified that he was about to cross at a green light when a car coming from the opposite direction turned in front of him without using a turn signal.
Arguing before Quebec Court Judge Éric Simard, Touma told the judge that he would have to take into account Belance's possible driving errors when considering his verdict.
She said it was reasonable for Ouellet to assume that Belance could clearly see Ouellet's car approaching and wouldn't make the turn.
Judge questions arguments
 However, Simard challenged some of Touma's arguments.
"It's possible Mr. Belance made a bad decision, but you could argue he made that decision because of the excessive speed of Ouellet's car," the judge said.
"He was forced to make a decision for a vehicle approaching at not 70, not 80, not 90, but more than 100 km/h," Simard continued.
Touma argued that police officers in surveillance operations are allowed to exceed the speed limit and said that Ouellet was just doing his job.
"This is not criminal behaviour," Touma said.
The prosecution is presenting its closing arguments this afternoon.
[ad_2]