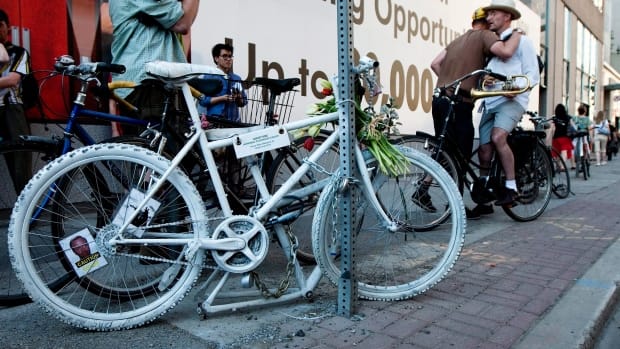 [ad_1]

Toronto cyclists will take to the streets Wednesday evening for a memorial ghost bike ride in honour of Dalia Chako, the 58-year-old woman killed last while riding in the Bloor Street bike lane near the Annex.
The organizing group, Advocacy for the Respect for Cyclists (ARC), will provide the ghost bike — a bicycle painted white and bearing Chako's name that will be chained up near the site of the crash.
"It's a reminder to the people that pass by them that someone was killed here," organizer Yvonne Bambrick told CBC Radio's Metro Morning.
"It's heartbreaking, I don't want to make another ghost bike sign."
According to ARC's website, around 6:30 p.m. the cyclists will ride along a one-kilometre route "mostly on bike infrastructure and quiet streets" from Bloor Street and Spadina Avenue to the crash site at Bloor and St. George streets.
Dalia Chako, 58, died after being hit by a flatbed truck while cycling in the Bloor Street bike lane, near St. George Street. A group of cycling advocates are organizing a ghost bike ride as a memorial to her. (Submitted by Skylor Brummans)
Chako — the fourth cyclist struck and killed in Toronto this year — recently moved to the city and didn't live far from the bustling Annex intersection where she was fatally struck by a flatbed truck around noon on June 12.
Her son, Skylor Brummans, who plans to attend the ride, said that he appreciates the gesture in honour of his mother.
"People don't realize those ghost bikes really do mean things to people that have lost somebody, and I never would have known that until I went through this experience myself," he said.
Large group expected to attend
Bambrick estimates a large number of people will attend on Wednesday because of the media attention on  Chako's death, and several other recent traffic-related fatalities.
"The first thing that comes through your mind, as someone who rides downtown, you wonder if it's someone you know. And people wonder if it's you," Bambrick said.
Wednesday's ride comes a day after road safety advocates announced 15 recommendations within a new report titled #BuildTheVisionTO — a response to the city's Vision Zero plan to eliminate all road deaths, one critics warn isn't working.
The ghost bike memorial ride will share a live link showing the group's progress along their route on Wednesday evening on ARC's Facebook page. Anyone interested in attending is asked to meet at Spadina Avenue and Bloor Street at 6 p.m.
[ad_2]