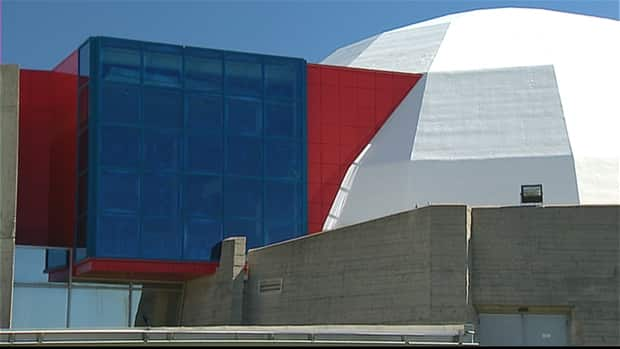 [ad_1]

Contemporary Calgary and city officials have reached a deal that will see the arts group realize its long-sought goal of creating a public gallery in the old planetarium building on the west end of downtown.
Under the agreement announced at City Hall on Tuesday, the city will spend $24.5 million on renovations to the building to bring it up to date with current building codes — to be complete by December — allowing the arts group to open the gallery in 2019.
"We are excited to bring new life to the planetarium — a place with historic significance and where Calgarians have a long history of going to learn, be challenged and inspired," said Contemporary Calgary's board chair Jay Mehr, who is also president of Shaw Communications.
The former planetarium building has sat vacant since the science centre moved to northeast Calgary in 2011. (CBC)
"With the clear direction of our organization, the support and commitment from the city in this lease agreement, and the passion in the community to put Calgary on the map as a visual arts destination, we are turning vision into reality."
The curvy, mostly concrete, brutalist-style planetarium at Seventh Avenue and 11th Street S.W. was built to mark the centenary of Canada's confederation.
In the 1980s, it became a science centre. The science centre vacated the building in 2011, reopening as the Telus Spark Science Centre at 220 St. George's Drive N.E.
Contemporary Calgary was formed when the Institute of Modern and Contemporary Art merged with the Museum of Contemporary Art Calgary, and later the Art Gallery of Calgary.
Talks broke off last fall 
The lease deal announced Tuesday comes about eight months after Contemporary Calgary walked away from negotiations, saying in September that after 3½ years of talks, the city was unwilling to sign a long-term lease with the arts group.
But since resuming talks, city officials and Contemporary Calgary have agreed to a 25-year year lease of the building with an option for a 10-year extension.
The facility will remain the property of the city and part of its heritage inventory. Contemporary Calgary will have control over all sublets, including food and beverage, retail, gallery, office and event rentals, the city says.
Calgary Economic Development CEO Mary Moran said the new gallery will be a great addition to the city's cultural offerings.
"As we prepare Calgary for the new economy, we know that companies and individuals are looking to live in a city with a vibrant arts and culture scene," she said.
"It's these types of investments that help ensure we continue to build a strong sense of place right here in our great city."
Contemporary Calgary board member D'Arcy Levesque noted last year that Calgary is one of the only major cities in North America that doesn't have a dedicated modern and contemporary art gallery.
[ad_2]