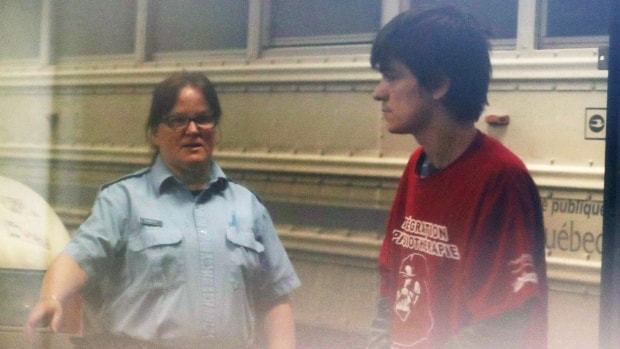 [ad_1]

The man prosecuting Alexandre Bissonnette says the 28-year-old should spend the rest of his days in prison.
The Crown informed a Quebec Superior Court justice today it is asking that Bissonnette be sentenced to life in prison without eligibility for parole for 150 years, 25 years for each count of first-degree murder he has pleaded guilty to.
It would be the harshest sentence ever rendered in Canadian history, since the abolition of the death penalty. 
"This unprecedented crime merits a punishment that reflects its horrible implications," said prosecutor Thomas Jacques in a Quebec City courtroom Tuesday, arguing Bisssonette had planned his crime and targeted a place of worship, "a sacred, holy place."
Six men died after Bissonnette went on a shooting rampage inside a Quebec City mosque in January 2017, injuring five others. Thirty-five people, including four children, witnessed the shooting inside the mosque that evening.
The 28-year-old, dressed in a blue shirt, remained impassive as Jacques read out the Crown's plea. Bissonnette's parents are in the courtroom, along with widows and children of the six men who died.
Bissonnette's defence team completed its arguments Tuesday morning, trying to convince Justice François Huot to impose a concurrent sentence for Bissonnette instead.
Defence lawyer Charles-Olivier Gosselin called the amended article of the Criminal Code which allows consecutive sentences "deeply flawed", because it neglects the principle rehabilitation in the Canadian justice system.
Gosselin said contrary to other mass murderers, Bissonnette did not carry out his murders over a long period and immediately surrendered to authorities. 
[ad_2]