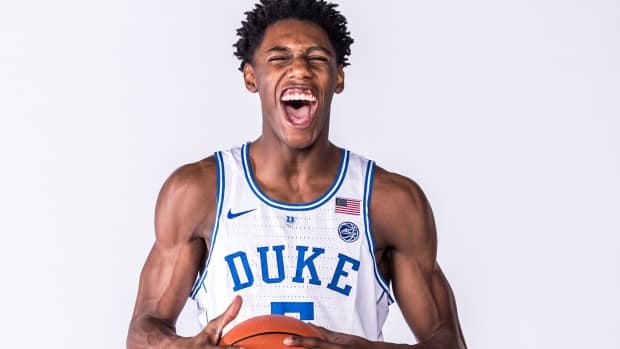 [ad_1]

It's been nearly five years since Andrew Wiggins first took the floor for the University of Kansas, accompanied by a mound of expectations.
The Vaughan, Ont., native was the top incoming basketball recruit from the high school class of 2013, had been nicknamed "Maple Jordan" and appeared on the cover of Sports Illustrated, which compared him to Kansas greats Wilt Chamberlain and Danny Manning. That year, every one of the freshman's regular-season games were broadcast nationally in Canada.
Andrew Wiggins won't play his first college game until Nov. 8. A month before, he's on the cover of <a href="https://twitter.com/SInow?ref_src=twsrc%5Etfw">@SInow</a>. <a href="http://t.co/ryvZgpAAAZ">pic.twitter.com/ryvZgpAAAZ</a>

&mdash;@SportsCenter
No Canadian college basketball player has been so intensely followed, but the hype now surrounding R.J. Barrett may make him a close second.
Barrett, who will attend Duke University this fall, announced his college choice on live television last November — a move that's become customary for top prospects in the United States.
Like Wiggins back in 2013, Barrett is the top dog in this year's freshman class and will likely be a "one and done" player as he's expected to leave college after this season to enter the 2019 NBA draft. Some observers think the athletic 6-foot-7 wing could be taken No.1 overall.
He'll also be joining one of the most prestigious programs in collegiate hoops and playing for the all-time winningest coach in NCAA Division I men's basketball history in Mike Krzyzewski.
There are plenty of parallels between the two phenoms, but also some differences according to Bill Self, who coached Wiggins for his lone season of college ball.
"R.J. has a ton of hype going into college. A ton. But Andrew was maybe even a different level. R.J. may be getting a lot more hype if Andrew didn't come before him," Self told reporters at last week's FIBA U18 Americas tournament in St. Catharines, Ont.
"But they're both terrific players. I think R.J. has more of an assassin-type mentality than Andrew did at that stage. But there wasn't a better young person to coach than Andrew Wiggins. He was a 10 when it comes to that."
Killer instinct
Barrett, 18, showed that killer instinct with a 38-point performance in Canada's stunning 99-87 upset of the United States in last year's FIBA U19 World Cup semifinal.
The Mississauga, Ont., native caught the attention of many in the basketball world, including the head coach of the University of North Carolina, Roy Williams.
---
The hall-of-famer admits he didn't follow Barrett closely after he committed to archrival Duke early in the signing period, but Williams still came away impressed with what he did see, specifically in that tournament.
"He had a great run last year at the [U19 World Cup]. They beat the U.S.A. and he was very phenomenal. We know they're getting a great player," Williams said.
Transition period 
But, regardless of talent, Williams says there's a transition period for every first-year player.
"Every freshman, it's such an adjustment for them. The more gifted you are, of course it's a lot easier adjusting," said the two-time Associated Press coach of the year. "But the better players and the kids who are tougher mentally always seem to make that adjustment quicker."
Before embarking on a 15-year NBA career, Danny Manning excelled during his time in Lawrence, Kan., and left as the Jayhawks' all-time leading scorer and a national champion.
Throwback Tuesday: Wake coach Danny Manning led Kansas &amp; coach Larry Brown to the 1988 NCAA Title <a href="https://t.co/BOGnymFIff">pic.twitter.com/BOGnymFIff</a>

&mdash;@darrenrovell
Stepping onto campus, some of the new things that he dealt were the challenge of time management off the court and increased intensity and athleticism on it.
Manning agreed with Williams in that his mindset was essential in making the jump from high school senior to college freshman.
"It's difficult for everyone. But it's something that you've been looking forward to," said the No.1 overall pick in the 1988 NBA draft. "You just gotta grind through it, do the best you can, try to learn from your mistakes, and try not to repeat mistakes."
'Be a sponge'
A busy summer awaits Barrett, with his first call up to Canada's senior national team at the end of this month and Duke's pre-season exhibition tour of Canada beginning in August in his hometown.
Before he even plays a single regular-season collegiate game, Barrett's Blue Devils are a popular choice to cut down the nets at the end of March Madness next year.
It was the same for Manning after his own decorated high school career that included USA Today's All-USA first team honours and being named Mr. Kansas Basketball in 1984 as the best player in the state.
The current Wake Forest University head coach went on to become one of the most accomplished players in the history of college basketball and was named the NCAA Final Four Most Outstanding Player in Kansas' national title run in 1988.
Manning's advice for Barrett is the same he gives any freshman.  
"Be a sponge. You're playing for a great coach. You play in a great league, just take it all in and play hard," Manning said. "You want to show your new teammates that you're a team guy. You're going to help your team be successful. You want to show people that you belong in terms of being able to compete at that level."
[ad_2]