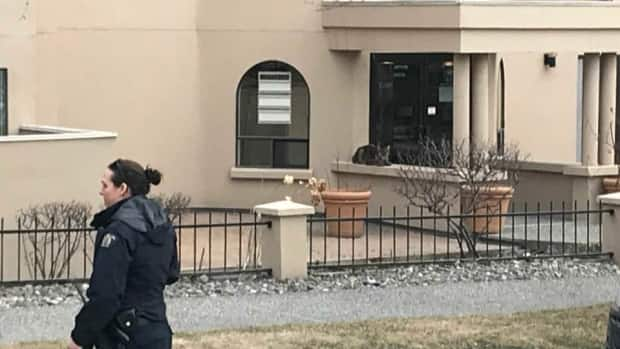 [ad_1]

UPDATE March 22, 2018: Conservation officer Kevin Van Damme said the cougar was destroyed after being captured because it was too young to survive on its own.
A young cougar in downtown Kamloops sparked the public's interest early Wednesday morning. It was spotted at Nicola Street and 3rd Avenue around 8:00 a.m PT.
Kamloops RCMP set up a perimeter around Ashley Court, an apartment building, where the cougar perched on a railing. Police asked the public to stay clear in hopes the cougar would leave on its own. B.C. Conservation Officers later tranquillized the cub and removed it from the  heavily populated area.
"We don't normally find cougars in the downtown core of Kamloops," said Sgt. Kevin Van Damme with the B.C. Conservation Officer Service.
Kamloops RCMP and B.C. Conservation Officer Services responded to reports of a cougar in the centre of Kamloops, located in B.C.'s southern Interior. (Jon Fulton)
"He was frightened and just sort of looking to probably find his way back to a place that was not so busy, not so many people."
The orphaned cub likely belongs to one of a handful of female cougars living outside to the city, Van Damme said. Conservation officers are working to determine how old he is in order to take the next step.
He said cougars leave their mothers at 10 months old, at the youngest.
"If they become orphaned before that, their survivability is just not possible," he said. 
"They need their mother to teach them how to hunt and to be successful out there in the wild."
If the cougar is older than 10 months, Van Damme said the Conservation Officer Service may be able to release it back into the wild. The other option at this point is to humanely put the cub down. 
The <a href="https://twitter.com/hashtag/Kamloops?src=hash&amp;ref_src=twsrc%5Etfw">#Kamloops</a> cougar is now being taken away by the <a href="https://twitter.com/_BCCOS?ref_src=twsrc%5Etfw">@_BCCOS</a> after it was shot with a tranquilizer outside an apartment building <a href="https://t.co/BM7tAfmoIS">pic.twitter.com/BM7tAfmoIS</a>

&mdash;@DHerbertCBC
With files from Doug Herbert
[ad_2]