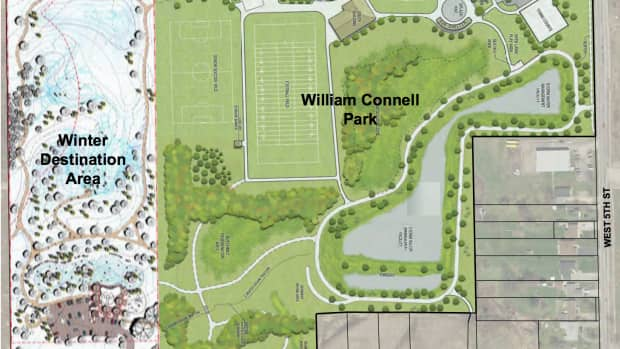 [ad_1]

Hamilton city councillors will vote next week whether to spend $7 million to transform some Mountain park space into "Winter Wonderland" – complete with professionally designed tobogganing hills.
The proposal comes just a few years after the city gained national notoriety for a de facto ban on tobogganing.
A staff report coming to the public works committee Monday recommends building a winter playground at William Connell Park, a new park on West 5th Street between Stone Church and Rymal roads.
The city has already spent $100,000 in Ward 8 money to look into the concept of a winter playground. That includes hiring a professional tobogganing hill designer.
Now staff recommend spending another $100,000 to add more design detail — a concrete skating loop, space for cross-country skiing, snowshoeing and "fat tire biking." The skating loop would be artificially refrigerated and require a separate Zamboni building.
It would cost $7 million to build out the park overall, the report says. And the city isn't sure where the money would come from.
Terry Whitehead, Ward 8 councillor, said the "Winter Wonderland" park concept would be a steal compared to building new arenas or recreation centres. It would also draw people from across the city. (Samantha Craggs/CBC)
Terry Whitehead, councillor for Ward 8 on the west Mountain, isn't deterred by the cost. 
"When you look at safe places for families to congregate for winter outdoor activities, Hamilton is in deep need," he said.
"How much does a rec centre cost to build? How much does an arena cost to build?"
Whitehead said the city could tap into provincial and federal grants, as well as foundations, to offset the $7 million. And it would be a year-round destination for residents city wide.
Other Mountain councillors are less enthusiastic. Tom Jackson, councillor for Ward 6 on the east Mountain, wonders why the cost is so high, and what other priorities it would push down the line.
The city lifted a tobogganing ban two years ago. (Laura Cole/Youtube)
"I'm not supportive of $7 million for this Winter Wonderland unless it is solely coming out of the Ward 8 area rating fund, which the ward councillor can then explain and/or defend," said Jackson via email.
"If, however, it is from the city's capital budget, my answer is definitely no."
"We have much greater priorities than this initiative."
The city is currently building William Connell City-Wide Park, a 20-hectare park that includes a lit football and soccer fields, nature trails, play structures and tennis courts.
As for the tobogganing hill design, the city hired Baker Turner Inc. without putting it out to tender. The staff report says this happened because there are so few firms who can do the work.
Whitehead has been a champion of winter sports on council.
For years, Hamilton shut down tobogganing after a local lawyer was injured tobogganing and sued the city.
Whitehead led a charge in 2015 to designate official tobogganing hills. He and Mayor Fred Eisenberger celebrated with a toboggan race.
[ad_2]