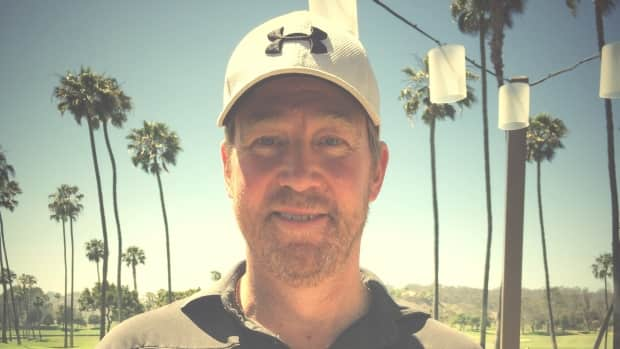 [ad_1]

Calgary golfer Steve Blake plans to stick to his routine, even as he walks with legends.
The just-turned-50 year-old financial adviser is still trying to put words to what just happened to him — namely, qualifying to play in the U.S. Senior Men's Open next week at the Broadmoor Country Club in Denver, Colo.
There, Blake will tee off with a bunch of major winners, like Fred Couples, Vijay Singh, Tom Watson, and John Daly.
Blake spoke to The Homestretch on Monday about how he's trying to keep two feet on the ground while all around him, friends and family and fellow club members from the Hamptons Golf Club in northwest Calgary are tripping the light fantastic over the news.
"I'm still buzzing. Everything's still tingling a little bit. It's a little bit surreal, but very, very excited," Blake said.
It's no miracle, though. Just like Kevin Costner's character Roy McIvoy in Tin Cup, Blake went down to San Diego to play in a sectional qualifier — although instead of having Cheech Marin caddy — as Costner did in the movie — Blake had his wife Kelly.
There are sectional qualifiers throughout the U.S — including one at The Broadmoor, where U.S. Senior Open Honorary Chairman John Elway entered, and failed to qualify for — but Blake had a couple reasons why he went all the way to San Diego.
"I wasn't 50 yet [the minimum age to qualify for the Champions Tour] so I had to wait for my birthday," he said.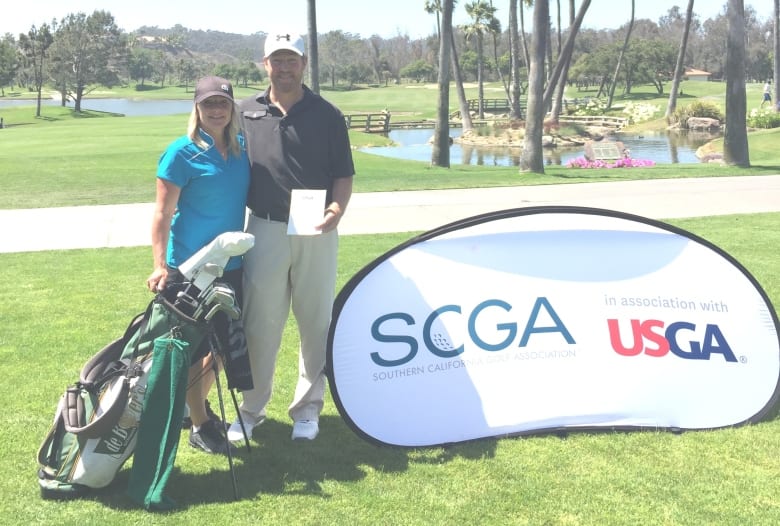 Kelly and Steve Blake, following news that he's qualified to play in the 2018 U.S. Men's Senior Open in Colorado, beginning June 28. (Steve Blake)
"I also happened to go to school there 30 years ago, at the San Diego Golf Academy, which was very, very close to the golf course [Fairbanks Ranch Golf Club] I was playing, so it made it a little bit more comfortable for me going down and playing that one."
Grinding on the Canadian tour
Following that stint at the San Diego Golf Academy in the late 1980s, Blake set out to qualify for the Canadian tour, but struggled.
"I missed getting my tour card that actually would have got me on the tour by a few shots, but I was bound and determined — I was going to follow it. I was going to try and do some Mondays [qualifying rounds] so I kind of went through that for three or four years, making the odd event here and there, but it just got to a point where it wasn't really paying out."
Instead, Blake joined the Hamptons Golf Club — he's the club champ — went into managing money, got married, had a family and went about the business of putting golf on the back burner, although he found some ingenious ways to keep his swing, despite the demands of his professional career.
"It's definitely not easy — especially the amount of time that golf does take when you're out playing — so I don't necessarily play a lot of full rounds," he said.
"What I do [instead] is, I have a small area in my house that has high ceilings, so I'll swing a club all winter long there, and try to get out to a golf dome and in the summers, do the same thing, just try and maintain my swing and really just doing whatever I can to say competitive."
In the qualifier, Blake shot a 70 at Rancho Santa Fe, making him one of the lucky few among 2,739 applicants who signed up to try to qualify for the tournament.
He might find himself on the range practicing next to former Masters champs Couples, Singh or Watson, but Blake says his plan is to stick to his routine.
"I'm going to try and really take it all in and then, when it comes time to put a tee in the ground, I'm just going to go through my routine, the same routine I would do if you and I were playing at the golf course, or if I was teeing it up at the Alberta Open [which he's playing in, starting Tuesday] or any other event."
The other side of the ropes
And as far as those golf heroes? Blake has seen Couples and other former PGA greats play, only then he was a fan, standing outside the ropes of the Shaw Charity Classic seniors tournament at Canyon Meadows Golf Club in southwest Calgary.
Down in Denver, beginning next Thursday — along with 19-year-old son Thomas, a junior hockey player, who's carrying his bag — he switches to the other side of those ropes.
How's that going to play with his head?
"I don't know how much I can prepare for that now," he said. "But it is definitely going to be different, being on the other side, where people are actually looking at you, rather than you looking at them."
---
With files from The Homestretch
Read more articles by CBC Calgary and like us on Facebook for updates.
[ad_2]