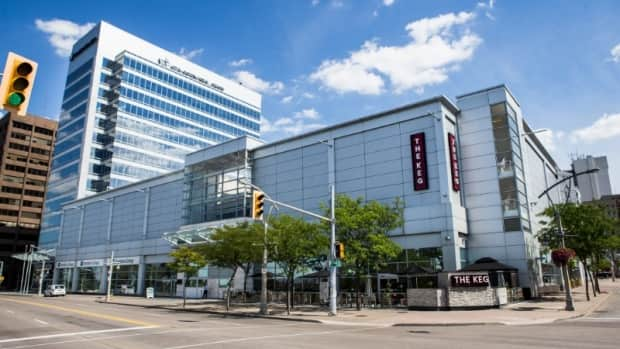 [ad_1]

St. Clair College is readying a new addition to their downtown campus in the One Riverside Drive building — a next step in fulfilling the school's vision of becoming a "destination college."
The 31,921-square-foot space will be located next to the St. Clair College Centre for the Arts — which houses the school's downtown student services.
The classroom space will be ready for the first day of fall classes and will be used by students in the general business, data analytics and freight forwarding programs.
Accommodating international students
Waseem Habash, vice president of academics, said the school's biggest growth in enrolment comes from international students — more than 5,000 are expected to be enrolled in the fall.
"[Downtown] is where they like to reside because they can find affordable housing … It can also help create traffic downtown and generate revenue for our merchants," Habash said.
Vice president Waseem Habash said St. Clair College has enough residence units to accommodate the more-than-5,000 international students who will be enrolled at the school in the fall. (Arms Bumanlag/CBC)
In June, CBC News reported that many international students struggled to find adequate housing. One home saw 20 students sharing one kitchen and two washrooms.
Habash said the college has 70 downtown residence listings available for students — with more available at the south campus.
"We do have sufficient housing for the students and, as of right now, we have enough for the fall semester."
Habash added St. Clair's vision is to be a "destination college." He said the growth of downtown Windsor is imperative for appealing to more international students.
"Our vision is to grow the college with quality programming and quality education."
The addition of approximately 1,000 students to St. Clair College's downtown campus will increase foot traffic for downtown businesses, college president Patti France said. (Stacey Janzer/CBC)
A 'win-win'
College president Patti France said she is happy to see this expansion downtown, adding it is a "win-win" for everyone.
"It recognizes Windsor's effort to revitalize the downtown, and achieves the College's paramount goal of accommodating our students in state-of-the-art facilities," France said.
"The addition of approximately 1,000 students to our downtown campus also means more foot traffic for downtown businesses, providing them with opportunities for growth."
In the fall, the college will have four buildings encompassing the downtown campus — One Riverside Drive, St. Clair College Centre for the Arts, the MediaPlex and the TD Student Success Centre.
[ad_2]