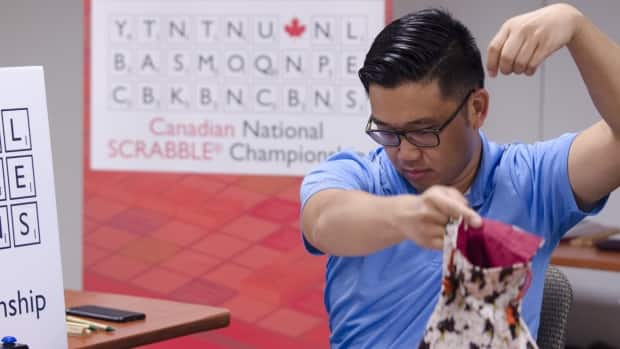 [ad_1]

Eric Tran of Calgary credits his Canadian National Scrabble Championship win to skill, luck and a dash of creativity.
The 30-year-old with a mathematics degree took a few chances with the word-playing board game, and they paid off.
"I think the most fun word I played was 'blargh,'" Tran told the Calgary Eyeopener with a laugh on Tuesday. "It's actually not a word in the Scrabble dictionary. I just made it up and I played it."
His opponent could have challenged the word and Tran would have lost his turn. But the opponent agreed to accept it. (Blargh could be defined as an exclamation of unhappiness.)
'Just want to give back'
The Calgarian earned the top title Monday night in Toronto as the 10th annual championship concluded. Despite it being his first go at the top spot, he secured the trophy and $7,000 prize.
And in the moment of the win, he said he felt gratitude and donated $2,000 of his prize money to the Ottawa Food Bank, a charity recommended by his opponent. He is also considering how to spend some of the remaining money on furthering the game.
"I just want to give back more to the Scrabble community because they've given me so much," Tran said.
At one time, Tran played a lot of board games all online. Then one of his virtual competitors invited him to an in-real-life Scrabble club meeting in Calgary.
"My mind opened to the whole world of competitive Scrabble. I got really addicted to that and just got the itch," he said. "Then I would start travelling to more Scrabble tournaments.
"And it just became a big part of my life."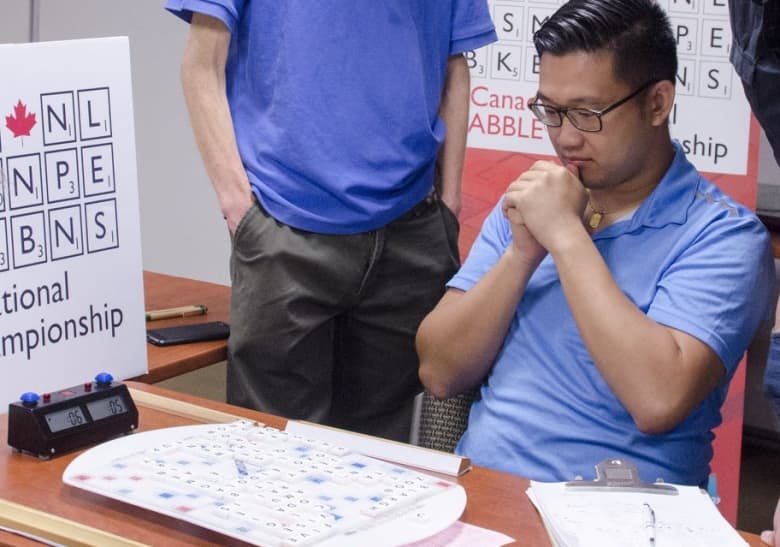 Eric Tran and John Stardon face off in the finals, as commentators Adam Logan and Jesse Matthews look on. (John Chew/Canadian National Scrabble Championship)
Tran insists much of Scrabble is simply luck, based on what letters you pull blindly from the bag. Some of it, however, is about expanding your vocabulary and planning for big-point words.
In one championship game, he scored a whopping 491 points with the word "pashmina," which is a scarf.
"I just really enjoy playing games. I like the strategy aspect, and I like words, too," he said. "So Scrabble's neat because you get to learn a lot of new words and use them in your everyday language."
The player has many interests, and he's looking for his next adventure.
On Tuesday, he was in Las Vegas for the World Series of Poker.
Back home, he works as a part-time bartender for the Calgary Flames, after completing a mathematics degree at the University of Calgary and going to law school.
---
Read more articles from CBC Calgary and like us on Facebook for updates.
With files from Danielle Nerman and the Calgary Eyeopener.
[ad_2]