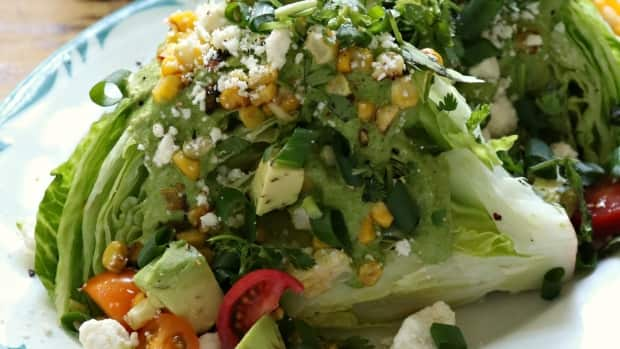 [ad_1]

How do you define a salad? Does it require a tossed mix of bite-sized greens or at least vegetables?
No, if fruit can be a salad, or ambrosia, that sweet blend of canned fruit, marshmallows and whipped cream. And what about jellied salads?
Ambrosia and pasta salads are evidence that they don't even require fresh produce.
Chopped salads describe their preparation, and composed salads are merely artfully arranged lettuce leaves and vegetables, like crudité on a plate.
Others, such as Waldorf, chef's and Cobb, have specific combinations of ingredients, or, in the case of Caesar, are defined by their dressing.
Of course, the most common is to have lettuce as a base.
Bins of spring mix have replaced the heads of lettuce of the 1980s and 1990s, but I'd like to make the case to bring whole lettuce back again. It's something more substantial that you can stab with your fork.
Iceberg is such a throwback of the '80s, when it was a salad bar staple and vehicle for Thousand Islands dressing. So it has become hip again in a retro way. But truly, is there another lettuce as satisfyingly crunchy as iceberg?
That's despite the fact that it can't be classified as a leafy green. It's crisp and watery, substantial enough to chop or use for lettuce wraps, and adds that essential crunch to tacos, burgers and the like.
At one time, wedge salads were standard steakhouse fare, simply drizzled with blue cheese dressing and a smattering of bacon bits.
But if you want a salad that requires a knife and fork, it can be dressed up just about any way you like.
Think of it as the blank canvas of salads. Treat it almost like a baked potato you can load with good things and something that's easy to make for one or two: no salad bowl required.
Here's a recipe for a wedge salad.
Wedge salad
Traditionally, wedge salads had creamy dressing that other ingredients could adhere to.
With fresh herbs in season, it's the perfect time to mix up a batch of ranch, made from buttermilk, mayo, garlic and loads of fresh herbs and either green onions or chives. Perhaps try a green goddess dressing, which is similar to the ranch with anchovies added, or this delicious blend of cilantro, garlic and lime.
In my version, I used leftover grilled corn scraped off the cob, diced avocado, grape tomatoes, green onions and feta.
But really, anything goes.
This wedge salad can be made with whatever ingredients you have handy. (Julie Van Rosendaal/CBC)
Ingredients
Cilantro-lime dressing:
Half a bunch of cilantro, roughly chopped with stems, too.
1-2 garlic cloves, peeled.
Juice of 1-2 limes. Another option is to peel, chop and toss in the whole fruit.
Big pinch of salt.
A big spoonful of mayo, roughly ¼ to 1/3 cup.
A splash of cream, sour cream or water, just to get things moving.
Iceberg lettuce.
Experiment with different toppings for your salad. A creamy dressing helps them stick together. (Julie Van Rosendaal/CBC)
Any toppings you like:
Chopped tomatoes, peppers, corn, avocado, green onions.
Lentils or chickpeas.
Crumbled feta or shredded cheese.
Chopped fresh herbs.
Crumbled bacon, sliced steak, cooked shrimp or shredded chicken.
Toasted nuts or seeds.
Crumbled tortilla chips.
Preparation
To make the dressing, pulse everything in a blender or food processor, adding more sour cream, cream or water to keep it going and produce a smooth, thick but pourable consistency.
Taste and adjust the salt or lime juice, if it needs it.
By cutting iceberg lettuce into wedges, you have a hearty, full meal. (Julie Van Rosendaal/CBC)
Cut thick wedges of iceberg and drizzle with the cilantro-lime dressing, top with any toppings you like. The thick dressing will help it adhere.
Sprinkle with herbs or crunchy bits at the end, right before serving.
Serving: As many as you like.
---
Read more articles from CBC Calgary and like us on Facebook for updates.
With files from the Calgary Eyeopener.
[ad_2]