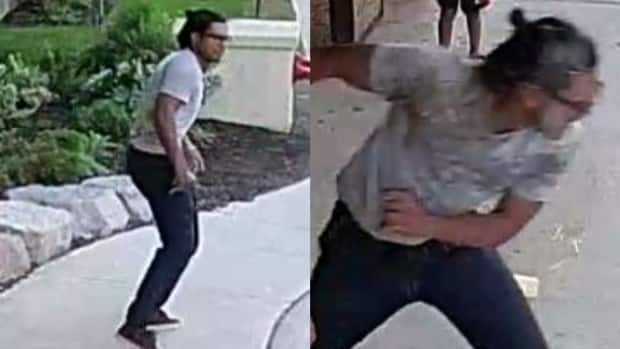 [ad_1]

A Brampton man is facing three charges, including sexual assault, after a woman was violently accosted in front of a child outside a convenience store earlier this month.
On June 1, a man approached the 23-year-old woman in the area of Kings Cross Road and Knightsbridge Road in Brampton around 7:45 p.m., according to police. The man tried to talk to the victim, who left on foot. She was followed by the suspect in a silver vehicle, police said in a news release.
The suspect approached the woman for a second time and allegedly sexually assaulted her before fleeing the area.
On Tuesday, police released video of the incident.
It shows the suspect running up behind the victim. He then grabs her hand and pulls it away from a child as she walks in front of a building entrance.
The suspect pushes her and turns to run away, then comes back a second time, grabs her by the hair and assaults her again. He then flees to his parked car and drives away from the scene. 
On Tuesday, a 24-year-old Brampton man turned himself in to police. He is charged with sexual assault, assault and criminal harassment. He was scheduled to appear in court on Wednesday.
Anyone with information is asked to contact the Peel police special victims unit at 905-453-2121, ext. 3460 or Crime Stoppers at 800-222-TIPS.
[ad_2]