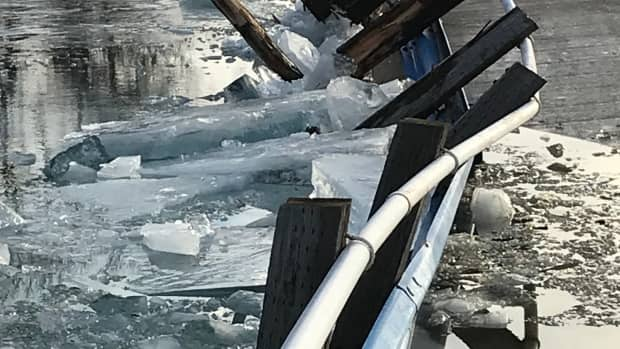 [ad_1]

Nearly six months after shifting ice destroyed a causeway near Sarnia, Bluewater Ferry owners say they are suing the federal government.
They blame Coast Guard icebreakers for damaging the causeway that connects their Sombra, Ont., dock with the shore.
The incident happened in January, and has threatened the livelihood of the fifth-generation family business which connects the small Ontario community with Marine City, Mich.
Co-owner Morgan Dalgety told CBC's Afternoon Drive they're losing money "hand over fist."
"We've done everything we can to get funding from the government so we had to break down and we're suing the government now," he said. "Hopefully the lawsuit will prove [they] are at fault."
A senior communications advisor with the Ministry of Fisheries, Oceans and the Canadian Coast Guard told CBC that since they have been informed of Bluewater Ferry's intentions to go to court, they cannot make a comment. 
'We're just living off savings'
Dalgety said the ferry operation is at a "stand still" and his family has desperately tried to raise the $1.5 million they were told was needed to fix it.
However, Dalgety said government agency requirements and changes to the original blueprints sent the cost skyrocketing to $2.9 million. 
"Things are tight here, we're just living off savings," he said. "We raised almost the $1.5 million to pay for the initial cost, but now the old causeway has to be taken out completely now. Before we were just going to lift off the cement top, so that made the costs go up quite substantially."
The Bluewater Ferry service crosses the St. Clair River, connecting Sombra, Ont. on the eastern bank with Marine City, Mich. in the U.S. on the western bank. (Google Maps)
He said his family members have mortgaged their properties to raise the funds and have had some community support through a GoFundMe campaign. But ultimately, they're looking to the government to pay up.
"If the Dalgety family don't have the funds to fix it we might have to sell a fifth generation business just to keep the ferry running," said Dalgety. 
Dalgety said his family has footage of the Coast Guard icebreaker passing by the causeway and he alleges it was travelling too fast.
He said lawyers have served lawsuit papers.
"Their lawyers are talking to our lawyers but it could be a year, two years down the road. Who knows?"
[ad_2]