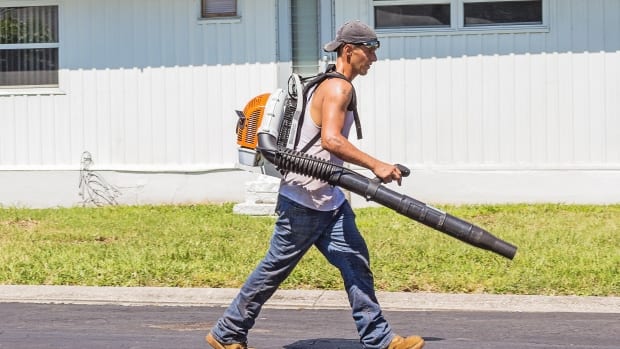 [ad_1]

Beaconsfield is looking to ban the use of all leaf blowers, be they gas or electric, in the summer months in an effort to combat noise and air pollution.
Notice of the ban, which would run from June 1 to Sept. 30, passed at Monday night's council meeting. The council will likely cast its final vote on the measure at next month's meeting.
"We started looking at this because of the noise," Beaconsfield Mayor Georges Bourelle told CBC Montreal's Daybreak Tuesday.
But it was soon discovered that noise wasn't the only problem.
Debris particles, he said, remain suspended in the air and have a "big impact on people with health issues. Particularly children. Particularly the elderly."
"We are talking about a threat to our health and to the environment," he said. "We are talking about sweeping mould, sweeping fungal spores, sweeping insect eggs, weed seeds, fertilizers, animal feces and dust."
Bourelle said the city's Environmental Advisory Committee has been studying the impact of leaf blowers over the last five years and that committee "unanimously recommended to council that we restrict the use of leaf blowers, particularly during the summer months."
Bourelle said people will be allowed to use blowers in the spring and fall when they are most needed.
Residents rally against blower ban
Beaconsfield resident Angelika Balinska Hansen was one of several anti-ban residents that attended Monday night's meeting.
She uses her electric leaf blower on a "very low speed," she said, and if "anybody has a problem with breathing, they can always put on a mask."
The debris she is cleaning is all natural, she said, and wind kicks it up in the air just as much as any leaf blower.
Electric leaf blowers should at least be exempt from the ban, she said, because they do not create as much noise. She and her husband have health problems, she said, and the blower provides a quick, low-impact means of keeping her property clean.
Contractors, she noted, will hike up prices because of the extra time required to clean lawns without a blower.
Resident alleges anti-ban citizens 'mistreated' at meeting
Hansen said residents against the ban were treated unfairly during the meeting whereas ban supporters were given preferential treatment. 
"It didn't go well at all," she said. "It was really upsetting. The mayor was really opinionated on the topic. He didn't let us voice our opinion. We were very dismissed and mistreated… It seems like our voice doesn't matter. It seems like the decision was already made."
Bourelle said the usual 30-minute question period ran for 90 minutes and everybody was allowed to speak.
"There was no stopping of anyone that wished to make a statement," he said, noting some people were moderated for rude behaviour. "Everybody had a chance to make a statement."
Contractors will have to change work methods under ban
Bourelle claimed the majority of citizens that attended the meeting supported the ban and the city has even received support from a local lawn maintenance contractor.
However, not all contractors agree.
"As we're going around paths, walkways, swimming pools, driveways and such, we do leave a mess," Dan Olah said.  "Unfortunately we can't clean it off unless we use blowers."
Olah is the owner of South West Garden and Snow, a West Island lawn maintenance company that does a lot of work in Beaconsfield.
Blowers push cut grass back back into the lawn and that, he said, is better for the environment than rounding it up, bagging it and shipping it to landfill.
"The amount of spores and dust and such that actually get blown in the air are minimal because the blowers are kept close to the ground," Olah said. "Whatever is blown into the air falls quickly."
[ad_2]