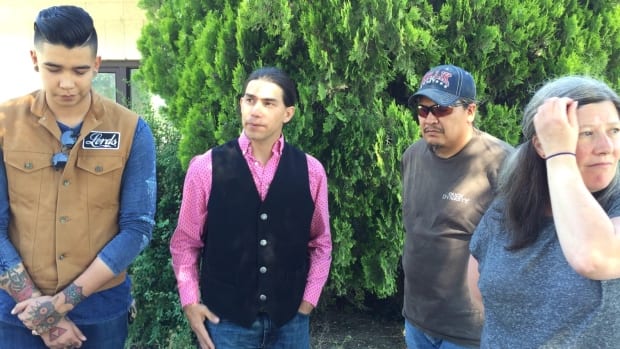 [ad_1]

The recent drug overdose death of a member of the Penticton Indian Band has people in the South Okanagan community grieving and looking for answers.
The tragedy has refocused the band leadership's resolve to make the reserve drug and alcohol free, said Chief Chad Eneas.
"I can't express enough how much the fentanyl crisis has affected us," Eneas said.
He wouldn't give details about the band member who died in the overdose out of respect for the family, which he says is grieving the loss of the young man. 
In 2013, the band developed a community plan that envisioned the future of the Penticton Indian Band.
One of the goals was to eliminate drug and alcohol use on the reserve. 
On Tuesday, Eneas and the band counselors spoke about their desire to achieve that goal, despite the challenges some of the members face.
Penticton Indian Band Chief Chad Eneas wants drug dealers to stay off the reserve. (Brady Strachan/CBC)
"A lot of the things lead to addiction and that real, kinda hard lifestyle," Eneas said.  
"The lack of housing, the discrimination for access to health care and really the not knowing of who we are in our Sylix ways — our own cultural practices."
Councillor Fred Kruger said the issue of addiction affects everyone in the community.
"Every family out here has a member in that family that is addicted and that is something that we are going to be looking at as far as helping them in some way to get away from that situation."
The band hopes to address the issue by building connections within the community through cultural practices such as healing ceremonies.
The band will also seek solutions to the opioid crisis with other First Nations.
A meeting in July among members of the Okanagan Nation Alliance will tackle the issue, said Eneas.
However, there is a desperate need for health and detox services for members struggling with addiction, said councillor Suzanne Johnson.
A need for detox beds
"It's really difficult to support our families when the detox beds are very limited and they are quite a distance away," she said.
"We are working with the First Nations Health Authority to increase access to those types of services."
The band is hoping the addition a second community RCMP constable with extensive experience in drug investigations will help stamp out drug dealing on the reserve. 
Part of the solution will be a tough stance for people bringing drugs like fentenyl to the community, said Eneas, who delivered a message to drug dealers: "Go do your business somewhere else. Because we don't want it here."
Read more from CBC British Columbia
[ad_2]