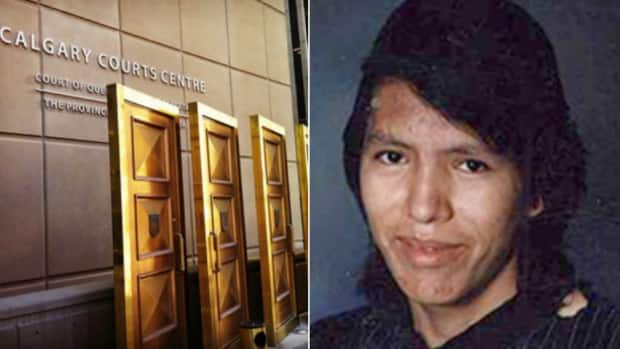 [ad_1]

Against the backdrop of years of abuse, Vanessa Poucette was acting in self-defence when she fatally stabbed her common-law husband, said her defence lawyer in his closing arguments Tuesday.
Poucette is charged with manslaughter in the death of Brennon Twoyoungmen, 42, in October 2016. 
The couple had been arguing and Poucette told the 911 operator that Twoyoungmen had attacked her and tried to choke her.
When she was later photographed at the Cochrane RCMP detachment, Poucette had a cut on her lip, bruises on her arm and back and was complaining of pain in her chest. 
Defence lawyer Alain Hepner called witnesses who testified that Poucette had been abused by Twoyoungmen over their six-year relationship. 
"Does she have to wait until she's being pummelled and assaulted before she fights back?" he asked. "These people didn't make that up; two people saw her being assaulted … punched in the face."
But Poucette was angry that Twoyoungmen had dated another woman during a break in their relationship, according to prosecutor Jillian Pawlow.
"This is not an act of self-defence," said Pawlow.
"[Poucette] grabbed a knife … she makes a decision to walk out of that kitchen, through the hall and stabs him."
Pawlow also pointed out numerous inconsistencies in Poucette's statements to police and her evidence at trial.
"[Her] reliability and credibility are just not there," said Pawlow. 
Twoyoungmen was still conscious and breathing when Poucette, 48, called 911 from her brother's home on the Morley reserve, but there was confusion over the address. It took paramedics nearly an hour to get to the victim. 
By the time they arrived, Twoyoungmen was dead.
Court of Queen's Bench Justice David Gates has indicated he will have a decision ready as early as August.
[ad_2]