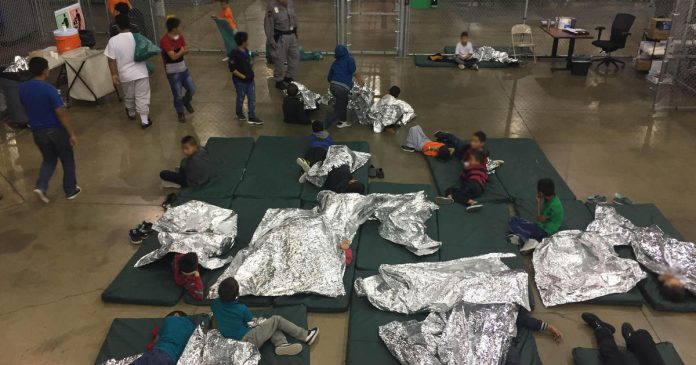 [ad_1]

The revelation that more than 2,300 children were separated from adults at the U.S. border with Mexico in just five weeks quickly led to a firestorm of condemnation, while federal officials have been defending their policy, and criticizing the media's coverage of it.
U.S. Secretary of Homeland Security Kirstjen Nielsen has accused the media of "misreporting" and argued that these detentions are not the result of new policies, but just the continuation of initiatives started by the previous presidential administration.
Here are the facts:
Is there a new policy that has caused families to be separated at the border?
Yes. On April 6, Attorney General Jeff Sessions ordered the implementation of a so-called "zero tolerance" policy for migrants caught crossing the border outside authorized entry points. That means a goal of prosecuting 100 percent of adults caught violating immigration law. 
Previously, adults without criminal histories who crossed the border with children were not referred for prosecution. Instead, some were booked into immigrant family detention centers and others were referred for civil deportation proceedings and released — a practice derided Monday by Nielsen as the "the historic 'get out of jail free' practice of the previous administration."
How many children have been separated from adults at the border since "zero tolerance" began?
A Customs and Border Protection spokesperson said Tuesday that 2,342 children were separated from 2,206 adults from May 5 to June 9. Previously, the Department of Homeland Security said 1,995 minors were separated from 1,940 adults from April 19 to May 31.
How many unaccompanied minors have been detained this year?
Between Jan. 1 and May 31, there were 21,181 unaccompanied minors detained at the border, according to U.S. Customs and Border Protection statistics. 
How does that compare with previous years?
The number of children traveling alone across the border has increased each year since fiscal year 2015, when there were 10,105 children apprehended, according to U.S. Customs and Border Protection statistics. That figure nearly doubled in each of the following years: 2016 (20,455) and 2017 (41,435). For fiscal year 2018, there have been 32,372 unaccompanied children apprehended, on pace to surpass 2017.
Where are the children taken?
The Office of Refugee Resettlement, part of the U.S. Department of Health and Human Services, places children in government facilities or short-term foster care while searching for their closest relative in the U.S. who can assume custody. There are 11,785 children in Office of Refugee Resettlement custody today. They stay for fewer than 57 days on average, before being released to their closest known relative or into a network of foster care providers associated with the Department of Health and Human Services.
What are these government facilities like?
As the number of children entering the country has grown, so too have the shelters. A so-called "tent city" was recently constructed in Tornillo, Texas, and one facility in Brownsville, Texas, called Casa Padre, is inside a former Walmart. Casa Padre has a listed capacity of 999, according to state records, however as recently as last week, reporters were told about 1,500 children were housed there.
The organization that operates Casa Padre, Southwest Key, told in an email on June 7: "We provide round-the-clock services including: food, shelter, medical and mental health care, clothing, educational support, supervision, and reunification support."
How does this compare to facilities used for detaining American youths?
It's quite different, according to Liz Ryan, President and CEO of the Youth First Initiative, a youth incarceration advocacy group. Ryan said in an interview with that juvenile detention facilities in the U.S. tend to hold just a few dozen children.
"We in the juvenile justice space tend to think that big facilities are very very bad," Ryan said. "The further away the person who runs it gets from knowing every person in the facility, the more likely the children are to suffer."
Is there evidence of problems at these facilities?
Southwest Key Programs, a non-profit that operates at least 16 immigrant children shelters in Texas, has been cited for about 150 health violations by state inspectors in the last two years, including for delays in medical care and instances of inadequate supervision. 
Casa Padre had 13 violations, including an instance in which a child who tested positive for a sexually transmitted disease wasn't given treatment until 18 days later. Another violation cited at Casa Padre was an instance when an employee was heard by an inspector making "a belittling remark towards a child in care in the presence of other children."
Six of the 13 violations were listed by state officials as either "high" or "medium-high" for "the potential impact a deficiency might have on children."
In an email to Monday, a Southwest Key spokesperson said that in the last three years the organization's unaccompanied minors facilities had been evaluated for compliance on more than 70,000 standards and only been found deficient in fewer than 1 percent.
"However, we take each of the deficiencies seriously by self-reporting to invite external investigations as well as performing our own internal investigations," the spokesperson said. He added that the organization can't comment on individual cases, but said violations can result in employees being terminated or retrained.
Where is the "tent city" and who is being kept there?
The facility at the Tornillo Point of Entry border crossing was constructed last week and is considered overflow housing for unaccompanied minors.
"We were told there were 98 kids in this tent city yesterday, we were told today there are 200 kids," Rep. Beto O'Rourke, D-Tex., told Sunday.
The "tent city" is on federal land, and it is not clear if it will be subject to regular visits by state childcare inspectors.
Administration officials point to the new policy as a way to block the gang MS-13 – do they have a point? 
Their argument is that gang members can exploit the loophole "zero tolerance" seeks to close, allowing families to stay together and be released from custody to enter the country. As an example, they point to the May 2 arrest of an MS-13 member caught entering with a baby. 
Customs and Border Protection statistics for fiscal year 2018 show that roughly 0.1 percent of people apprehended at the border (275 out of 256,857) have been linked to MS-13 by authorities. Between 2011 and 2017, about 0.02 percent of children detained (56 out of roughly 250,000) were connected to the gang, according to Senate testimony given by Secretary Nielsen in April.  
Officials say that people lie about their relationship to children they enter with. How prevalent is that tactic? 
The vast majority of apprehensions at the border do not include fraud. Between October 2017 and May 2018, 99.75 percent of family units apprehended by at the border were not linked to fraud (i.e. pretending to be a parent). A Customs and Border Protection official said Tuesday that out of 59,113 total family unit apprehensions during that period, there were 148 cases of alleged fraud. 
Where are the migrants coming from, and why?
Customs and Border Protection statistics show an influx of migrants from Guatemala, Honduras and El Salvador, countries which the the United Nations Children's Fund reports have experienced sustained gang violence and political instability.
The total number of so-called family units, those who arrived together with at least one adult and at least one child, arriving from Guatemala jumped from 24,657 in fiscal year 2017 to 29,278 as of May 31, four months before the end of the current fiscal yeal, on Sept. 30. There were 22,366 family units from Honduras apprehended in fiscal year 2017, and 20,675 apprehended by May 31, putting that total on pace to surpass last year's as well.
[ad_2]