[ad_1]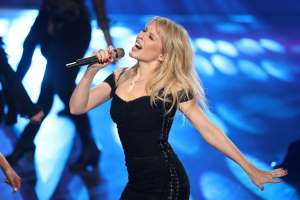 © PinkNews Media Group
Pop icon Kylie Minogue has revealed the moment when she realised she was a gay icon – when she ended up at a Kylie themed night in a gay bar.
Many of us can be found dancing away to a Kylie Minogue hit in 2018, especially to her recent comeback album, but Minogue has been a darling of the LGBT community since the 80's.
The Australian singer became aware of the love the LGBT community has for her in the late 80's, following her debut album and role on several sitcoms including Neighbours.


© PinkNews Media Group
Minogue has a career spanning multiple decades (Gareth Cattermole/Getty Images)


In an interview with Billboard, Minogue was asked when she knew she was a gay icon, which she replied: "It happened without me knowing it."
The singer then recalled the night where she ended up at a gay bar in Sydney after someone suggested that she go to an iconic gay bar.
The Albury, one of Sydney's main gay bars in the 80's, was known to be hosting a night themed after Minogue that evening.
Minogue said: "I was in the car, my manager was in the car with me along with a couple other people, and someone said 'there's Kylie Night at the Albury tonight.'
"And I was like 'What?!' I'd never heard of a Kylie Night, but I said 'We should go! We should go!'
She added: "There weren't that many versions of me then, I'm talking 1989 or '90. Now there's tons of them – choose a look."
Minogue has now given us multiple iconic looks, and the last three decades of the singer's career has certainly cemented her as a gay icon.
The 50-year-old went on to say that she doesn't always look like Kylie when she goes to her own themed nights, which often involve her own impersonators and drag queens.
She said: "I'm the least Kylie person when I'm at any of those nights. I looked like they should not have let me in.
"That's the first moment I can remember where it was a thing, and it's been a thing ever since – which is incredible."


© PinkNews Media Group
(Michael Dodge/Getty Images)


In April, Minogue released her 14th album, Golden, her first original studio album since Kiss Me Once in 2014.
The country-inspired return to music was an instant success worldwide and gave the 50-year-old her first number one album in nearly a decade.
Golden comes on the back of her split from English actor Joshua Sasse, who she was set to marry, after reports he cheated on her with an actress.


© PinkNews Media Group
Kylie Minogue and Joshua Sasse in 2016 (Cole Bennetts/Getty Images)


In a candid interview she confessed: "I was a bit broken, I wasn't feeling very strong at a certain point, and we've all been there, we know what that's like.
"But I tend to bounce back pretty quickly, I'm pragmatic about stuff.
"It's looking rationally, with heart, with humour, to where I'm at… I hope you can feel on the album there's no blame, I'm not hanging on to anything."
Related: Kylie Minogue snags a new man for her 50th (Provided by Cover Video)
MSN Loneliness Campaign: Could you go a week without seeing anyone? We're helping three charities raise funds for the 9 million people affected by Britain's 'silent epidemic'. Find out more and please donate now.
[ad_2]