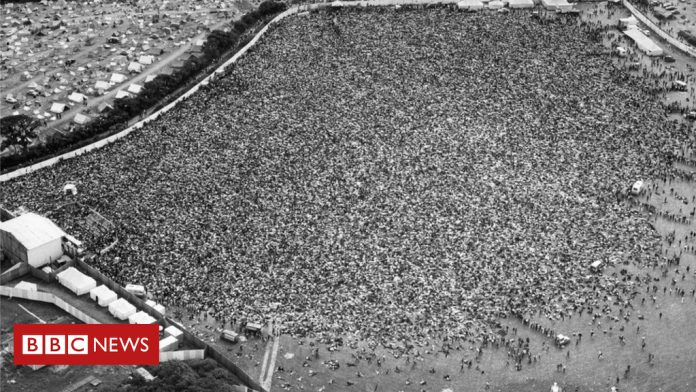 [ad_1]

The Isle of Wight Festival is celebrating its 50th anniversary this weekend.
First held over a single night in 1968, it was abandoned after crowd chaos at the infamous 1970 event.
The festival was revived in 2002 at its current home in Seaclose Park near Newport.
The 1970 festival at Afton Down drew an estimated 600,000-strong audience, more than five times the island's population.
It featured performances from Jimi Hendrix, The Doors, Joni Mitchell, The Who, Sly and the Family Stone, Joan Baez and others.
The 1970 festival led to the introduction of a new law after crowds tore down the fences in protest at being charged £3 a ticket.
The Isle of Wight County Council Act 1971 was brought in to license "larger overnight assembles in the open".
The festival was not held again until current promoter John Giddings revived it in 2002.
Wet weather in 2012 caused gridlock on approach roads, with motorists queuing for up to 10 hours.
Many people were forced to sleep in their cars as they waited for tractors to tow them on to the muddy festival site.
In 2016, Isle of Wight Council said the event could be cancelled unless organisers Solo Promoters were able to reduce costs or increase ticket sales.
A deal for US firm Live Nation to take over the festival was confirmed the following year.
[ad_2]