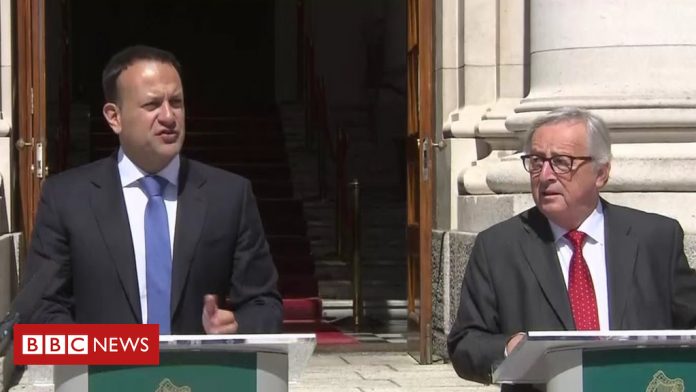 [ad_1]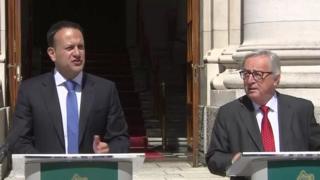 Ireland is not alone in Brexit negotiations and will remain backed by all member states, European Commission President Jean-Claude Juncker has said.
Mr Juncker was speaking in Dublin on Thursday.
He is in Ireland for a two-day visit as the impasse between the EU and the UK over the Irish border continues.
This week the EU warned that more work was needed on how to deal with the 300-mile frontier post-Brexit.
Mr Juncker started his visit with a meeting with Taoiseach (Irish prime minister) Leo Varadkar and Irish Foreign Minister Simon Coveney at Government Buildings in Dublin.
'Not alone'
After the meeting, Mr Juncker made clear that a resolution to the border issue was crucial to the withdrawal treaty.
"This is not a bilateral question between Ireland the United Kingdom – this is an issue between the UK and the European Union," he said.
"We want to make it clear again and again that Ireland is not alone.
"We have Ireland backed by 26 member states and the commission – this will not change.
"I am strongly against any temptation to isolate Ireland and not to conclude the deal on Ireland.
"Ireland has to be part of the deal."
Mr Junker will receive an honorary doctorate from the National University of Ireland and attend an official dinner hosted by Mr Varadkar in Dublin Castle later on Thursday.
He will also address a joint sitting of both houses of the Irish parliament, the Oireachtas.
On Friday, he will meet Irish President Michael D Higgins and visit the home of the Gaelic Athletic Association (GAA), Croke Park, and the GAA museum.
He will also watch a demonstration of Gaelic football and hurling.
[ad_2]