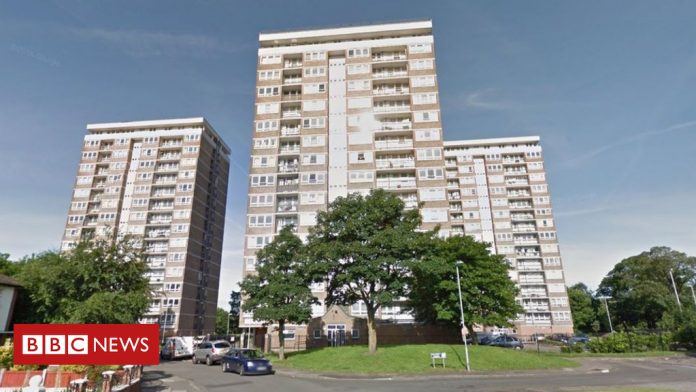 [ad_1]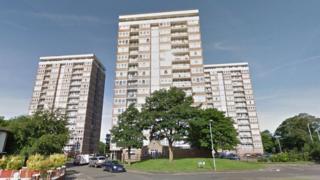 Hundreds of residents in a housing trust's tower blocks were left at risk from fire for months, a regulator said.
Knowsley Housing Trust (KHT) failed to complete fire safety work on time at Quarry Green Heights, Kirkby, following the Grenfell Tower fire disaster, the Regulator of Social Housing said.
Knowsley MP George Howarth called for resignations over the "unforgivable failure" that put "tenants at risk".
KHT said it had completed the changes and "will work with the regulator".
'Systemic failure'
Merseyside Fire and Rescue Service issued three fire enforcement notices to KHT in November 2017, saying people in its Quarry Green tower blocks were unsafe in the event of a fire, the regulator said.
The fire service assessed the blocks in June 2017 and warned in follow-up letters in August and September of actions needed, which KHT failed to perform.
They wanted fire doors repaired, better compartmentalisation between flats and improved safety on rubbish chutes.
The regulator said it also learned that KHT had a number of high-risk fire safety actions outstanding at its other properties, which "potentially affected hundreds of tenants for a number of months".
KHT's own internal audit found "systemic failure" to comply with statutory fire safety regulation, it said.
Labour MP Mr Howarth said he was "deeply concerned" by this "unforgivable failure" and in the House of Commons on Thursday he urged those in senior positions at the trust to consider their positions.
Urgent meeting
He said he wrote to social landlords, including KHT, following the Grenfell disaster – a fire that engulfed a tower block in London killing 72 people in June 2017 – and the trust said they had "no problems whatsoever", which was "simply wrong".
Tony Cahill, executive director at KHT, said the safety of its residents had been its "number one priority" and it had put "additional measures in place whilst the works were undertaken".
"We now have new teams in place who are monitoring our approach to fire safety and statutory compliance, to ensure they are robust," he said.
"Both the board and the executive officers have recognised the need to learn lessons from these events and we are committed to implementing any changes necessary to protect our tenants."
Mr Howarth and the leader of Knowsley Council, Graham Morgan, have asked KHT for an urgent meeting.
The regulator said the trust had provided assurance the work had been completed and it would now consider if further action should be taken against KHT.
[ad_2]