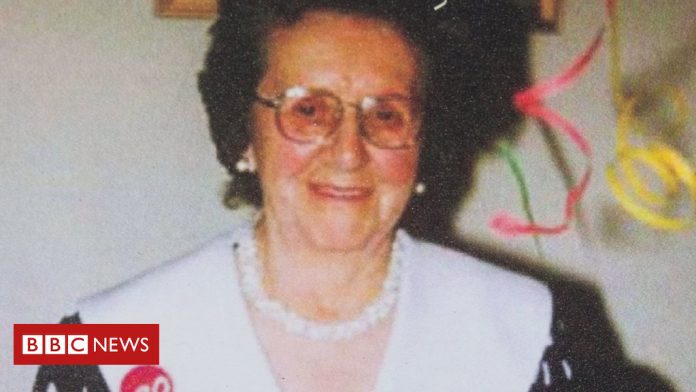 [ad_1]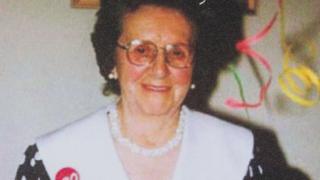 The granddaughter of a woman who died at Gosport War Memorial Hospital has described how her grandmother's treatment there amounted to "torture".
Bridget Reeves told the Victoria Derbyshire show her grandmother Elsie Devine, 88, was treated "brutally" after being referred for respite care.
It comes as an inquiry found more than 450 patients died after being given "dangerous" amounts of painkillers.
Miss Reeves has been campaigning for justice for the patients for 20 years.
She is now demanding criminal charges are brought against hospital staff after the Gosport Independent Panel's report.
The report revealed whistleblowers and families were ignored as they attempted to raise concerns about the administration of medication on the wards, overseen by Dr Jane Barton.
It said there was a "disregard for human life" of a large number of patients from 1989 to 2000.
Mrs Devine was taken in as a patient at the hospital in 1999 while she recovered from a urinary tract infection.
Miss Reeves said as her father had also been having a bone marrow transplant at that time and – as her grandmother lived with them – they believed it was better for her to stay in hospital to recover than return to an "empty house".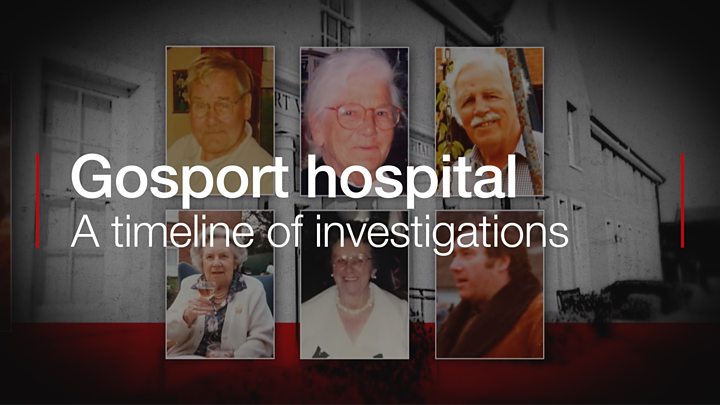 She said her grandmother had been "very able" and "of good mind" and it came as a "huge shock" to the family to receive a call from the hospital on 19 November 1999 to say her grandmother only had 36 hours left to live.
"By the time we got there she was already clinically dead," said Miss Reeves.
"When we returned to Hammersmith [where her father was being treated], the nurses there thought it was very extraordinary that she'd be unconscious. They said, 'just for peace of mind go and have a look at the medical file'."
Medical notes showed Mrs Devine had been given the opioid fentanyl, diamorphine, a sedative called midazolam and an anti-psychotic drug called chlorpromazine.
Mrs Devine's family found out in 2008 a page had been taken out of the notes detailing how she had been visited by a psychiatrist who found her to be "happy, no complaints, said tablets make her mouth sore, she's just waiting for her daughter".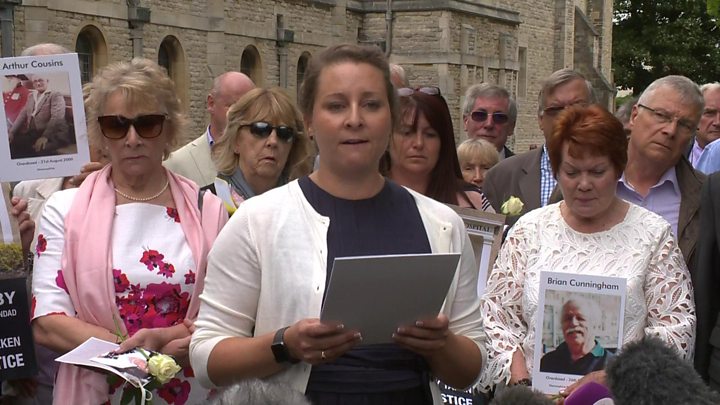 But the notes showed Dr Jane Barton had prescribed Mrs Devine fentanyl after the psychiatrist's visit.
Dr Barton was found guilty of failings in her care of 12 patients at Gosport between 1996 and 1999. She was not struck off the medical register but chose to retire after the findings.
'Gosport will be remembered for this'
Jane Barton, the doctor who shortened lives
Miss Reeves and her family asked for an independent review after Mrs Devine's death, and received a report which she said showed the "brutality" of the way her grandmother died.
She said the report said when Mrs Devine, who she described as a "very slight lady", got up on 19 November she had a huge dose of morphine – equivalent to 135mg – in her body.
The report said she was "aggressive" and "disorientated", Miss Reeves said.
"She threw nurses up against a wall allegedly and so they pinned her to the floor and they injected her with 50mg of chlorpromazine and then they put the syringe driver in her back and 40mg of diamorphine and midazolam," she added.
"They walked her until she was 'done in' and then they laid her in the bed and then they called the family. That was 23 hours after they started what I can only call – I don't think I could say it on television."
The scandals that haunt the NHS
NHS 'closed ranks' over hospital deaths
Miss Reeves was asked if she would describe it as "torture" and she said "yes".
Miss Reeves said: "We've been through hell and back.
"Let's have no more delay – let them stand up and say, 'we were wrong, we didn't support you, all of your concerns have been substantiated'."
[ad_2]