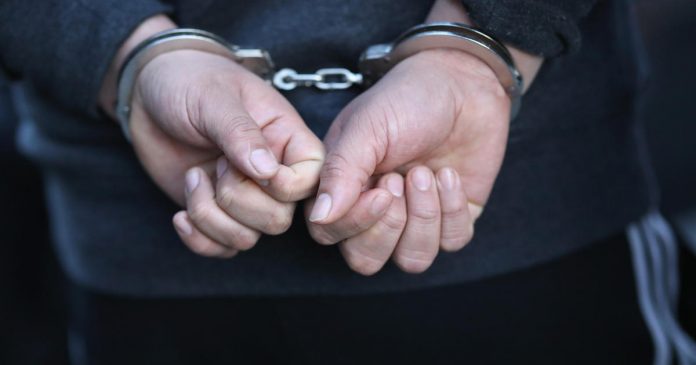 [ad_1]

TOLEDO, Ohio — Federal agents arrested more than 100 workers an Ohio meatpacking plant Tuesday — the second large-scale raid within the state in the past two weeks. The arrest follows a yearlong immigration investigation.
The investigation focused on whether the company knowingly hired people who are in the country illegally and used fake identities belonging to U.S. citizens to get their jobs, Immigration and Customs Enforcement officials said.
The arrests come as the U.S. government steps up its focus on businesses that hire people in the country illegally as part of a broad range of immigration crackdowns under Republican President Donald Trump.
Agents arrested 146 people in one of the largest workplace immigration raids in recent years. It took place at Fresh Mark's meat processing plant in Salem, in northeastern Ohio. Immigration agents and local authorities also carried out search warrants at the company's two other locations in Massillon and its plant in Canton.
Most of the workers arrested were from Guatemala, said Khaalid Walls, an agency spokesman. Several of those who were detained were processed and released on Tuesday because they are the sole care providers of children or they have health concerns, Walls said.
The Retail, Wholesale and Department Store Union, which represents workers at the targeted plant and two other Fresh Mark plants in Ohio, called the raid "an egregious show of force," and said it was working to help the affected families. "Our union will not stand for violence against immigrants; we will not stand for tearing families apart and we will not stand for the terrifying tactics of the Trump Administration," Stuart Appelbaum, the union's president, said in a statement.
Dustin White, a pastor in Canton whose ministry reaches out to dozens of Guatemalans working at Fresh Mark, said he was told by families that some workers were detained at the Canton plant as well.
"From what I saw and heard they say their loved ones haven't come home," White said a day after the raid. "In many ways, the dust hasn't settled."
No criminal charges have been filed against Fresh Mark, but authorities say the investigation is continuing. The company makes bacon, hot dogs, ham and lunch meat for the Sugardale and Superior's brands.
The company referred questions to federal authorities, but noted in a statement that Fresh Mark is a member of Immigration and Customs Enforcement's self-policing program that's described as a way for employers to verify workers are in the country legally and to spot fraudulent documents.
"This program between the US government and private employers ensures a lawful workforce," Fresh Mark's statement said.
The agency said members of the program aren't immune from prosecution for workforce compliance violations.
"Unlawful employment is one of the key magnets drawing illegal aliens across our borders," said Steve Francis, head of U.S. Immigration and Customs Enforcement's Homeland Security Investigations unit in Detroit.
Two weeks ago, immigration agents arrested 114 people at a garden and landscaping company in northern Ohio. Authorities said they planned to charge workers for crimes including identity theft and tax evasion.
In December, a 62-year-old Guatemalan national was killed at the Canton plant after he stepped into a chute and got caught in a waste auger, according to authorities.
© 2018 CBS Interactive Inc. All Rights Reserved. This material may not be published, broadcast, rewritten, or redistributed. The Associated Press contributed to this report.
[ad_2]