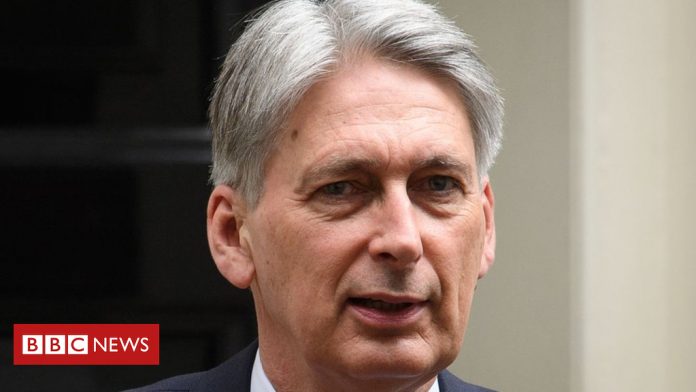 [ad_1]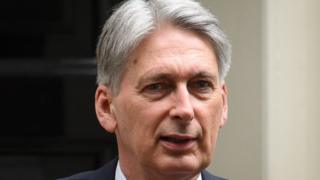 The Treasury is not "the enemy of Brexit", Chancellor of the Exchequer Philip Hammond has insisted.
In a speech in the City of London, Mr Hammond said the UK needed to protect patterns of trade with the EU that had been "built over decades".
The chancellor also used his Mansion House speech to confirm taxes will have to go up to boost spending on the NHS.
But he said the increase would be partly funded by lower contributions to Brussels post-Brexit.
In the past the chancellor has come under fire from supporters of Brexit.
Earlier this month Foreign Secretary Boris Johnson called the Treasury "the heart of Remain", in comments to a private dinner.
However, addressing a City audience on Thursday, Mr Hammond said the "immediate key" to the UK and London's economic success was "ensuring we get a good Brexit deal".
He said the goal was a partnership that "recognises that our European neighbours are our most important trading partners, and that Dover to Calais is the busiest trading corridor in Europe".
As the UK leaves the EU, he said the new relationship should "maintain low friction borders and open markets".
He went on: "That does not make the Treasury, on my watch, 'the enemy of Brexit'; rather, it makes it the champion of prosperity for the British people outside the EU, but working and trading closely with it."
Mr Hammond also said the £20bn five-year NHS funding package announced by the prime minister this week would be partly funded by lower contributions to Brussels.
However, he also said the government would stick to its fiscal rules and "continue to reduce debt".
As a result taxpayers will have to "contribute a bit more", he added.
Earlier this week, Prime Minister Theresa May announced a boost in NHS spending, which will see NHS England's budget increase by £20bn by 2023.
The plan also means more money will be given to the rest of the UK – about £4bn – although it will be up to the Welsh and Scottish governments to decide how that is spent.
Mr Hammond said the NHS was the government's "number one priority for the forthcoming spending review".
"So, as the Prime Minister said, taxpayers will have to contribute a bit more, in a fair and balanced way, to support the NHS that we all use."
[ad_2]