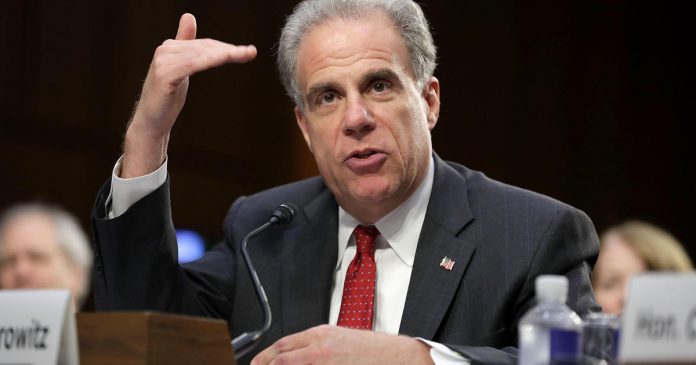 [ad_1]

Department of Justice Inspector General Michael Horowitz is answering lawmakers questions for a second day on Capitol Hill in the wake of the IG's report that criticized the leadership and judgment of the FBI and Justice Department in their handling of the investigation into Hillary Clinton's emails. 
Horowitz is appearing before a joint session of the House Judiciary and House Oversight Committees where he will be pressed on the report's findings. 
Highlights from the Senate's hearing:
On Monday, Horowitz testified before the Senate Judiciary Committee that the report found "inappropriate political messages cast a cloud" over the course of the email probe and further "sowed doubt about the credibility of the FBI's handling of it, and impacted the reputation of the FBI."
Highlights from Tuesday's hearing:
Immigration
At the start of the hearing, lawmakers and protesters focused on immigration rather than the topic at hand. At the top of the hearing Rep. Jerrold Nadler interrupted Chairman Trey Gowdy to talk about separating families at the U.S.-Mexico border, saying the "U.S. should be better than this."
A small group of women with babies in the hearing chamber also started to protest, chanting "families belong together!" 
Meanwhile, Ranking Member Elijah Cummings delivered a stern rebuke of the Trump administration's "zero tolerance" policy, calling on Republicans to "stand up" to President Trump and "reject this mean policy."
"Even if you believe immigration should be halted entirely we all should be able to agree that in the United States of America, we will not intentionally separate children from their parents, we will not do that. We are better than that. We are so much better. We should be able to agree that we will not keep kids in child internment camps indefinitely and hidden away from public view. What country is that," Cummings said in an emotionally-charged opening statement. 
Political Bias/Peter Strzok texts:
Horowitz told lawmakers that as a result of the report's findings, the FBI found two additional FBI agents beyond Peter Strzok and Lisa Page as well as one attorney that exposed political bias during the investigation. While employees have a right to a political opinion, "their job is to check them at the door" Horowitz added. 
"My view of this was that this was extremely serious, completely antithetical to the core values of the department," Horowitz said of the largely anti-Trump and politically biased messages exchanged. Horowitz reiterated, however, that through the investigation, "we didn't find or see evidence prosecutors were impacted by that bias."
As for fired FBI Director James Comey, Horowitz said that he "exhibited" bias but that decisions made by others during the Clinton investigation "were not infected by that bias."
"We did have concerns about how we thought what was a biased state of mine impacted his October decisions regarding the [Anthony] Weiner laptop. We could not say one way or the other but we couldn't rule it out," said Horowitz. 
DOJ's next steps:
Horowitz says that the report made nine recommendations for ways to prevent similar issues of political bias found in the IG's report. 
"One of which is the department needs to consider putting in place guidance and rules and polices to memorialize what it believes prosecutors and agents should be doing in the time period before the election," he said. 
With regards to Comey discussing not bringing charges against Clinton before his final assessment, Horowitz noted as a result of the report, the IG's team found that there is currently no explicit policy about "not speaking on uncharged conduct when you don't charge any criminal activity."
He said prosecutors don't speak about uncharged conduct out of fairness to the individuals. "if a person isn't going to be charged, you don't speak about it, you speak in court," Horowitz explained. 
' Emily Tillett contributed to this report. 
© 2018 CBS Interactive Inc. All Rights Reserved.
[ad_2]