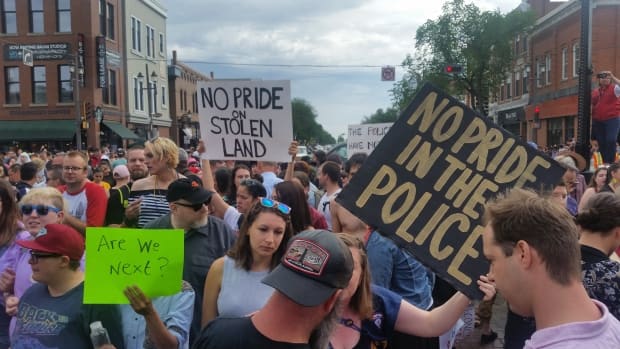 [ad_1]

The history of the Pride parade in Edmonton has seen many forms. What started out as a protest of discrimination — against people who are lesbian or gay, bisexual or trans, queer, questioning or two-spirited — has morphed into more of a celebration.
But for some members of the LGBTQ2S+ community, Pride is still a protest.
"In the last year, I've learned a lot about the history of Pride," Sissy Thiessen, an Indigenous spoken word poet, told CBC's Radio Active Friday. "It started as a protest against oppression."
This Pride month, there were fractions in the local community after protests stopped the parade in its tracks on June 9. Protesters had four demands, including uninviting police and the military from future parades and making more room on Edmonton Pride's board for people of colour and transgender people.
With that context in mind, Thiessen said she understands the protest. "The organizers were protesting the very same thing they were protesting in 1968 — which was the oppression from institutions," she said.
Michael Phair was a part of Edmonton's first Pride parade in 1990, nine years after the Pisces Club raid where 56 men were arrested for "acts of indecency" and many were effectively outed when their pictures and names were published in local newspapers. 
For Phair, this year's protest reminds him of those difficult days of discrimination. "It still represents, for me, a bit of the notion of protest, the difficulty with discrimination," he said.
Shay Lewis was one of the protesters who stopped the Edmonton Pride Parade on June 9. (Emilio Avalos/CBC)
Boyd Whiskeyjack said two-spirit people like himself only started participating in the Pride parade in 2015. He views the parade as a celebration of how far everyone has come rather than a protest of the inequalities the communities may still  face.
Whiskeyjack, who uses he/him pronouns, acknowledges that everyone's voice matters. For himself, "Pride means just honouring who I am." 
'A need for both'
Whiskeyjack said the protesters' demand to diversify Edmonton Pride Festival Society board was very much needed. As a two-spirit individual, he plans to run for a member of the board this fall.
"[I'm running] so that we Indigenous LGBTQ people have voices," he said. "We've been here on 'Turtle Island' for centuries before the settlers came."
Thiessen said that acknowledging Pride's storied history as rooted in protest is only part of the answer. Another important piece is supporting the community year-round.
Pride is more than sporting a rainbow flag once a year, Thiessen says. (Zoe Todd/CBC)
"There's a lot of commercialization going on," she said. "People using a rainbow instead of taking a bit more direct action.
"Just showing up for one part, the best part, where are they the rest of the year?"
Phair said there are plenty of organizations that show their support in multiple ways, including government, teachers and church groups.
Thiessen sees the need for both celebration and protest — in that it's important to recognize the progress, but also acknowledge more needs to be done.
"I think they both could exist," she said. "I think there's still a need for both, even though we're almost 50 years out of Pride."
[ad_2]