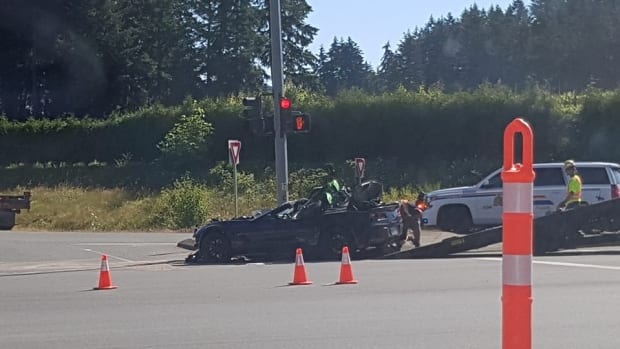 [ad_1]

The Independent Investigations Office of B.C. has been deployed after an off-duty police officer was involved in a crash that left a motorcyclist dead on Vancouver Island early Sunday. 
RCMP say the green Kawasaki motorcycle collided with a black corvette on the Trans Canada Highway in Mill Bay around 2:15 a.m.
The crash scattered debris just south of the Cobble Hill Road and Cowichan Bay intersection.
More cars were tangled up in the crash when they hit the wreckage, according to RCMP.
The motorcyclist died at the scene. Another person was briefly hospitalized with minor injuries.
Parallel investigations
Staff. Sgt. Annie Linteau said one of the people involved was an off-duty officer with the Victoria Police Department. A statement did not elaborate on how they were involved.
She said the IIOBC is investigating the officer's actions while the RCMP is looking at the civilians'.
As part of the latter investigation, South Vancouver Island Traffic services is looking for a vehicle that drove through the debris field.
Linteau said a description of the vehicle is not available, but anyone who drove through the area or knows someone who did is asked to call RCMP at (250) 416-0352.
The IIOBC is called in whenever there is an officer-involved incident resulting in death or serious injury.
Read more from CBC British Columbia
[ad_2]