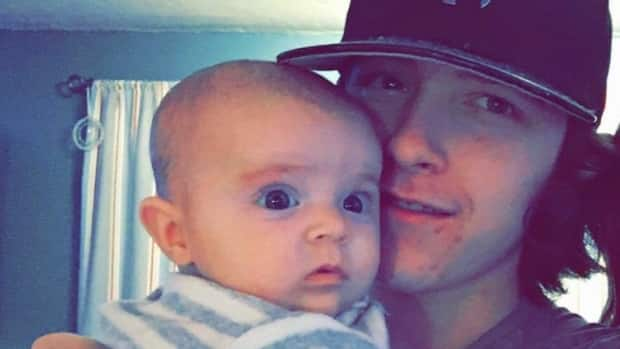 [ad_1]

Two witnesses who were on the scene when a North Sydney, N.S., teen was struck and killed by a vehicle last week say they saw the driver drinking earlier at an outdoor graduation party.
Joneil Hanna, 17, died after being hit June 10 on Highway 223 near Leitches Creek.
Devon Edwards, 19, and Nathan Arsenault, 20, say they can't be sure whether the driver was too intoxicated to drive, but they are critical of Cape Breton Regional Police.
Edwards, 19, said police had arrested him at the party for fighting, but the driver of the vehicle that hit Hanna stepped forward and offered to drive Edwards home. Edwards said that's when police should have at least checked the driver's sobriety.
Driver wasn't questioned
"The police officer didn't want to see me get into trouble or go to jail, so he [the driver] came up and offered to drive me home and they released me into his care instantly," Edwards said.
"But they all knew we were all drinking. They should have asked him first: 'Are you able to drive? Are you sober? Are you good enough to go? Can I give you a breathalyzer test before you take him home?'
"But they never asked any of them questions."
Cape Breton Regional Police said Monday the incident is still under investigation and maintain they didn't think they had grounds to demand the driver submit to a breathalyzer test following the deadly crash.
No grounds for breath test: police
Police said they were called to the party at a home in Leitches Creek twice over concerns there were a large number of people drinking and there was a potential for fights and impaired driving.
Police arrested two people, one for public intoxication and the other for impaired driving. Officers stayed in the roadway near the house as party-goers dispersed to ensure no one was drinking and driving.
At around the same time, they received a call that someone had been struck along Highway 223, approximately two kilometres away.
The CBC has reached out, but has been unable to contact the driver.
Calling for a ride
Arsenault, 20, said he left the party and joined Hanna walking down the rural road sometime after 3 a.m. He said Hanna was trying to call someone else for a ride when he crouched down on the shoulder of the road.
"I could hear a car coming in the distance, and it's black out, so by the sound you could tell the car was going fast," Arsenault said.
He briefly wondered whether his friend was in danger, but Arsenault said he thought Hanna was far enough off the road.
"And then I looked away for a split second, heard a boom, and then I knew he was hit and he wasn't there. He was in the ditch off the road," said Arsenault.
Edwards, who was in the car, said the driver and his girlfriend had been fighting at the party and had continued arguing in the vehicle. But he said he didn't see exactly what happened because he was in the back seat behind the driver.
He said police allowed him to leave the scene without being questioned. When police brought him in the next day, he said he had seen the driver drinking and they had even shared a few beers together.
The first time Arsenault was questioned by police he said he didn't want to get anyone in trouble so he told them he didn't know the driver or if he was drinking. But the next day he said he admitted he did know him and that he saw him drinking that night.
Both Arsenault and Edwards admit they had been drinking and were traumatized by the incident.
"I think about it every night," said Edwards. "I'm pretty heartbroken, actually, because he was one of my good buddies."
[ad_2]