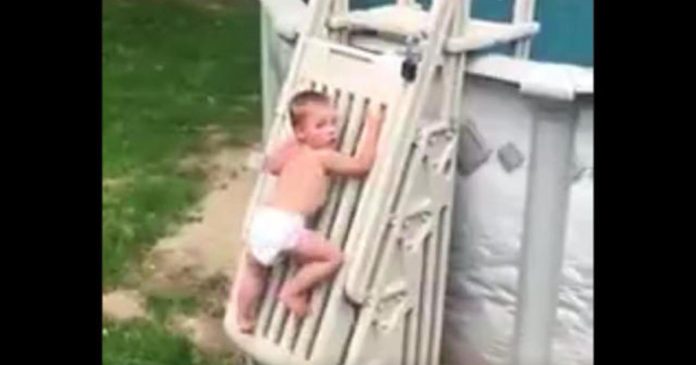 [ad_1]

A dad from Attleboro, Massachusetts is using a video of his 2-year-old son to give other parents a warning. Keith Wyman's video of his son, Cody, shows just how easy it is for kids to get into pools by themselves — even when there are seemingly child-safe measures in place. In Wyman's case, a pool ladder with a locked cover was no impediment for a determined toddler.
"So, I bought this ladder with the pool. And I'm watching my son, with it locked and shut, pull himself up this ladder," Wyman can be heard saying off-camera as his son hoists himself up towards the rim of an above-ground pool. The toddler is still in diapers, but isn't too small to get up a ladder that is meant to prevent kids from climbing. 
"Whose big idea was it to have this door put on a ladder with slots like that, with a 2-year-old that can pull himself up and climb this thing?" Wyman says.
Just as Cody reaches the top, Wyman's wife, Tonya Sostre, grabs their son before he can make it into the pool. 
Cody's parents say he has climbed up the ladder before, and they took the video as documentation to show others how dangerous it could be. They returned the ladder and are are now pushing the manufacturer to consider a design change, CBS Baltimore station WJZ reports.
The video went viral online, and as the weather gets hotter, pool safety for kids is at the forefront of many parents' minds. 
Earlier this month, Olympic skiier Bode Miller lost his 19-month-old daughter, Emeline, when she drowned in a pool. Miller's wife, Morgan Beck, was at a friend's house with Emeline when the accident occurred. Beck says she saw her daughter one minute, and the next, she lost track of her. She then found Emeline in the pool. 
Responding paramedics found the baby unresponsive. They tried unsuccessfully to resuscitate the girl and she was rushed to an emergency room and was declared dead.
Wyman's video is another example of how quickly and easily kids can get themselves into dangerous situations. 
"You could do all these things, safety precautions, but your eyes, you have to keep them on [your kids] at all times," Sostre said. 
© 2018 CBS Interactive Inc. All Rights Reserved.
[ad_2]