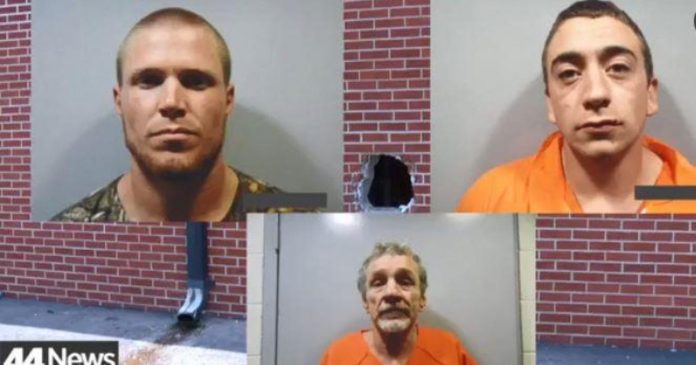 [ad_1]

Last
Updated Jun 18, 2018 5:19 PM EDT
CARMI, Ill. — Deputies in southeastern Illinois have captured one of three inmates who escaped from the White County jail early Saturday, but the other two — including a murder suspect — remain on the run. CBS affiliate WEVV reports Justin Bray, 28, was picked up late Saturday near Crossville, Illinois. 
Corrections officers discovered Bray, 24-year-old Zachery Shock and 61-year-old Johnny Tipton missing about 5:30 a.m. Saturday. Surveillance video showed the men running along an alley outside the jail about 3 a.m.
The White County sheriff's office in Carmi, just west of the state line with Indiana, says the men used a pipe to break a hole in an outside concrete block and brick wall. The station showed images of the jail building with a large hole in the mortar.
Bray was spotted walking along a county road in a rural area east of Crossville Saturday night, according to the sheriff's office. He fled authorities on foot and was later taken into custody in an oil field by White County sheriff's deputies, the U.S. Marshal Service, Illinois State Police and Carmi K-9 unit, sheriff's officials say. 
Bray was in jail on charges of unlawful use of a weapon and fleeing. He's expected to face additional escape charges. Bail will be set at $1 million.
The sheriff's office says Shock was awaiting trial for murder in Hamilton County. Tipton was being held for possession of stolen property. Both remain at large.
The men are considered dangerous. Anyone with information about where they might be is asked to call the White County Sheriff's Office.
© 2018 CBS Interactive Inc. All Rights Reserved. This material may not be published, broadcast, rewritten, or redistributed. The Associated Press contributed to this report.
[ad_2]