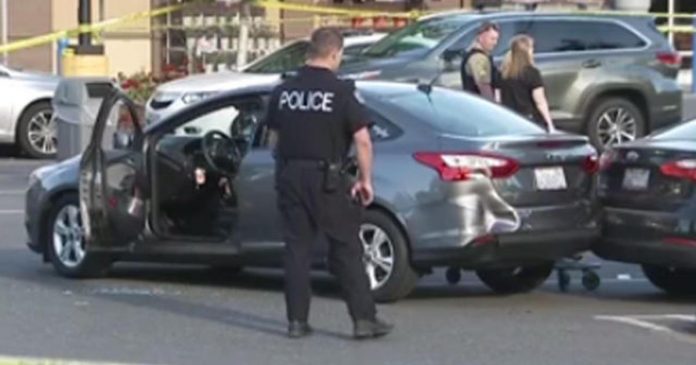 [ad_1]

TUMWATER, Wash. — An armed civilian who shot and killed a man who had wounded two others Sunday night at a Washington state Walmart is a pastor and a medic, reports CBS affiliate KIRO-TV. Tumwater police say officers were initially responding to a report of a car driving in the wrong direction but, while en route, were sent to a nearby scene of a reported carjacking with shots fired.
There, they found a 16-year-old female victim who'd suffered non-life threatening wounds.
A short time later, at about 5:30 p.m., Thurston County Dispatch began getting calls about shots fired "in or around the Tumwater Walmart and parking lot," according to police.
They say they found the 16-year-old's stolen car in the parking lot.
The carjacking suspect, identified by police as 44-year-old Tim Day, went into the Walmart Supercenter and fired shots at a display case, police said. No customers or employees were hit.
Police say the suspect then left the store and tried a second carjacking, in the parking lot, shooting an adult male occupant of the car in the process. That victim was treated for gunshot wounds and airlifted to a Seattle hospital. His condition wasn't known.
Police say the suspect then tried yet another carjacking in the parking lot, but was approached by two armed civilians. One shot Day dead, authorities said.
The civilian who killed the gunman is a pastor who works with the Oakville Fire Department, where he is a lieutenant and an emergency medical technician, KIRO-TV reports.
After the incident, the man who shot Day retrieved a first-aid kit from his car and provided aid to the driver who had been shot until medics arrived, police said. Officials said Monday that the driver remains in critical condition at a Seattle hospital.
Witness Robert Berwick told the station he was in the parking lot at the time of the shooting, and is thankful to the man who stopped the shooter.
"He didn't look like he had any regrets. I hope he doesn't have any," Berwick said of the pastor.
© 2018 CBS Interactive Inc. All Rights Reserved. This material may not be published, broadcast, rewritten, or redistributed. The Associated Press contributed to this report.
[ad_2]