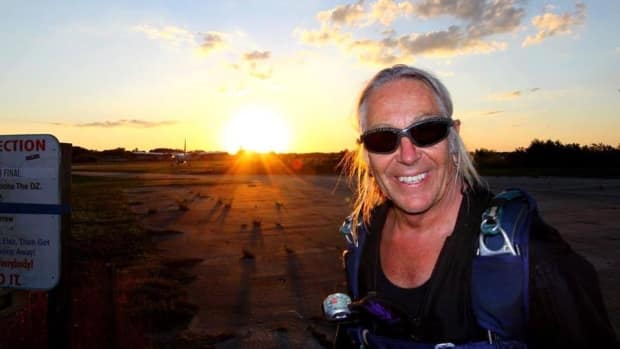 [ad_1]

An experienced Kamloops skydiver, who holds numerous world records for wingsuit flying, died in a skydiving accident on Friday while training for an upcoming record attempt.
Reginald Hurlbut, who went by the nickname Veggie Reggie because of his avid gardening and generosity sharing baskets of vegetables with fellow flyers, was at a training camp in rural Illinois.
"I was on the same jump with him," said Danny Grant, a friend of Hurlbut's.
"The parachute opened and something happened between that and the landing. He just appeared to not have complete control."
La Salle County investigators and the Federal Aviation Administration are still investigating the cause of the accident.
There were about 44 skydivers on the jump that day, all wearing wingsuits, Grant said.
Wingsuit flying is skydiving with a special suit that allows the skydiver to glide through the air in formations between leaping from the airplane and deploying their parachutes.
Legacy of drive
Hurlbut, 68, was well known in the world of wingsuit flying.
"He made the sport what it is," Grant told Chris Walker, the host of CBC's Daybreak South.
He was part of a Guinness World Record attempt several years ago to have 100 wingsuiters in formation.
"Since then, he's been part of, as far as I know, every world record leading up and progressing through — as the formations got bigger and bigger — and that was something we were working on this past weekend," Grant said.
Grant says he plans to continue jumping despite the accident.
"The events of this past weekend really just kind of drove it home — this was Veggie Reggie. He was turning 69 this year and he was out to beat again one of his own records," he said. "For a lot of us, we really just [want to] live by this drive."
Read more from CBC British Columbia.
With files from Daybreak South.
[ad_2]