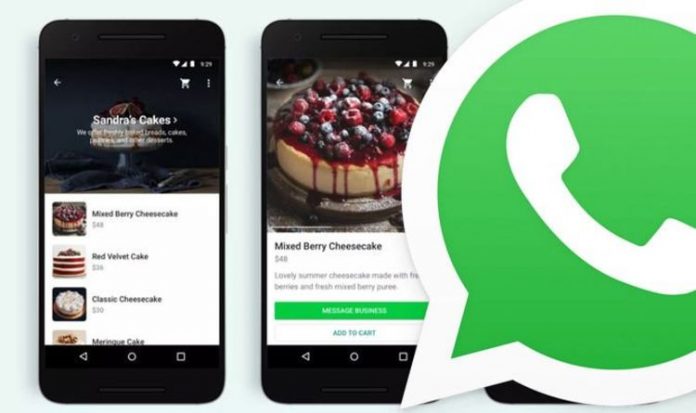 WhatsApp recently announced that over 100 billion messages are sent via the chat service every single day. Now the Facebook-owned firm wants to use this simple way of keeping in touch to help its users buy things from businesses. Yes, instead of heading online and trawling through endless webpages you'll soon be able to order directly from your favourite frim via chats.
This new feature, which could be very bad for your bank balance, is called Carts and offers an easy way to buy multiple items from an online or local store.
With carts, people can browse a catalogue, select multiple products, and send the order as one message to the business. WhatsApp is hoping that this will make it simpler for businesses to keep track of order inquiries, manage requests from customers, and close sales.
"Starting today, we're excited to bring carts to WhatsApp. Carts are great when messaging businesses that typically sell multiple items at once, like a local restaurant or clothing store," WhatsApp said in a blog post.
The feature comes as WhatsApp recently partnered with Britain's oldest family-run butchers, R J Balson & Son, in Bridport, Dorset.
READ MORE: WhatsApp reveals huge news as Android and iPhone users set for major changes
The 505-year-old butcher is turning to WhatsApp to help them manage their turkey and other festive orders in the run-up to their busiest time of year.
Speaking about how it's changed the way they do business with customers, Richard Balson, Master Butcher at R J Balson & Son said: "We might be the oldest family business and butcher in the country, but we are always looking at ways of innovating.
"By using WhatsApp Business we hope to make the best of a very different Christmas this year and ensure we can get our famous meats to as many customers as possible. Covid-19 has undoubtedly taken its toll on our business, but if we can survive fires, flooding and even wars I'm confident we'll ring in our 506th year in a much stronger position!"
How to place an order using cart:  When you are visiting a business' catalogue on WhatsApp, you can use the MESSAGE BUSINESS to start a conversation or use the ADD TO CART button if you're ready to place an order with the business about a product that you're viewing.
Adding products to cart
Open WhatsApp. Go to your chat or business profile of the business you'd like to order from. Tap on the shopping button icon listed next to their name to access their catalogue.
Once the catalogue opens, browse through the products you'd like to order. Tap on the product you like.
Tap ADD TO CART on a product if you'd like to order.
Alternatively, you can also tap MESSAGE BUSINESS if you'd like to ask a specific question about the product.
Placing an order
Once you've successfully updated your cart, you can send it to the seller as a WhatsApp message.
Once sent, you will be able to see the details of your order by tapping on the VIEW CART button in your chat window with the seller.