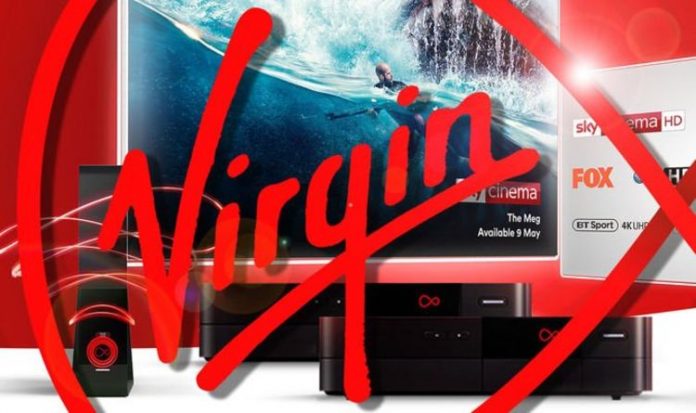 Virgin Media's drive to bring better speeds to more customers is continuing with the firm's biggest upgrade to date. The broadband supplier has just announced that it has switched on its Gig1 service in London and Northern Ireland which means millions more customers will now be able to access speeds in excess of 1Gbps.
At that rapid rate, you can beam a full HD movie to your TV in around 40 seconds – downloading the same film on the UK's average speeds (60Mbps) takes over 10 minutes.
With Virgin Media's hyperfast gigabit connection, the firm says that ultra-high definition 4K films and TV programmes, very large files and videos can be downloaded almost instantaneously, even with multiple devices using the connection simultaneously.
This update means that Virgin's Gig1 service is now available in over six million homes across the UK.
And the Internet Service Provider (ISP) says it hopes to have over 15 million homes connected to its Gig1 speeds by the end of 2021.
READ MORE: Virgin Media is giving away a serious broadband upgrade to customers again
Speaking about the upgrade, Lutz Schüler, Chief Executive Officer at Virgin Media, said: "It has never been clearer that our services play a vital role in supporting people's everyday lives and powering the economy. The nation needs next-generation connectivity and we're delivering.
"Our ambitious target will see us roll-out gigabit speeds across our entire network of more than 15 million homes by the end of next year. We're on track to deliver that promise with homes in London and Northern Ireland the latest to gain access to blisteringly-fast Gig1 services.
"As our rollout continues at a speed and scale unmatched by anyone else, whatever the future holds, we're keeping our customers and the country connected to what's next."
Of course, Virgin isn't giving away these Gig1 speeds and you will need to pay extra if you want to access this ultrafast connection.
Prices for Gig1 start from £62 per month which is a lot more expensive than Virgin's lower speeds.
For example, you can connect to the web at 100Mbps for £29 per month or get 200Mbps speeds for £35 per month.
If you are now in the areas where Virgin has switched on its Gig1 service you'll need to decide if you really need these impressive speeds.
Express.co.uk has created a helpful chart to show what each speed means for download times.
Virgin Media M100
Price • £29 per month (new customers)
Download 4K movie – 4GB size • 5 minutes
Download PS5 game – 50GB size • 1 hour
Virgin Media M200
Price • £35 per month (new customers)
Download 4K movie – 4GB size • 3 minutes
Download PS5 game – 50GB size • 35 minutes
Virgin Media M500
Price • £47 per month (new customers)
Download 4K movie – 4GB size • 1 minute
Download PS5 game – 50GB size • 14 minutes
Virgin Media GIG1
Price • £47 per month (new customers)
Download 4K movie – 4GB size • 40 seconds
Download PS5 game – 50GB size • 7 minutes