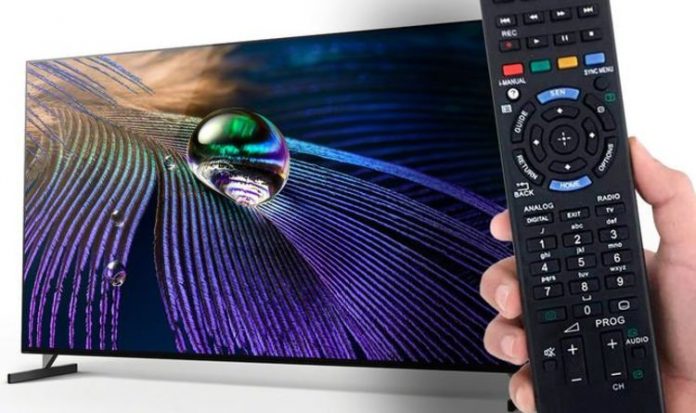 Sony announced its new range of TVs back in January with these latest goggleboxes, which include the premier A90J, getting a very clever new feature. Tucked behind the screen is a new Cognitive Processor XR which the Japanese tech firm reckons will allow its tellies to replicate the way humans see and hear. That basically means this chip can keep an eye on exactly what's going on on the screen and adjust the picture accordingly for a more lifelike image.
A lot of televisions from other manufacturers have similar technology, but Sony says that whilst most TVs can detect and analyse certain elements – such as colour and contrast individually – the Cognitive Processor XR can monitor an array of elements all at once, just like our brains.
Along with an improved picture, this intelligence can also adapt the sound which will make watching a Premier League match or the latest blockbuster movie feel far more immersive. In addition, it also upconverts any sound to 3D surround sound, to deliver supreme realism with an immersive soundscape
This processor as it's also able to analyse sound position as well. This allows the audio to perfectly match the placement on the screen making adding to the realism.
READ MORE: Samsung will reveal exciting TV news TODAY as it teases something big is coming
Another treat for owners is the very latest software with Google TV continuing to power these gadgets.
This upgrade will allow consumers to find content more easily and keep track of their favourite shows via a single watchlist along with viewing live TV and subscription services such as Netflix and Disney+
You'll also find improved voice search, simple connection to Apple devices via AirPlay and X-Anti Reflection technology which minimises reflection for a distraction-free viewing experience.
Other treats include a specific Netflix Calibrated Mode, full smart speaker compatibility and Ambient Optimisation which tweaks the picture and sound quality to suit different environments.
Sony is also boasting that its new BRAVIA XR MASTER Series A90J 4K HDR OLED TVs feature the exclusive BRAVIA CORE service. Included with the purchase of all new BRAVIA XR models, users can enjoy a selection of the latest Sony Pictures Entertainment premium and classic titles and the largest IMAX Enhanced collection. BRAVIA CORE is the first in the industry to feature Pure Stream technology, achieving near lossless UHD BD equivalent quality with streaming up to 80 Mbps.
Finally, if you've ever been annoyed by the stand your new TV arrives with, then Sony hopes to solve your woes. The design of these next-gen sets means the stand can be placed in numerous positions to suit different furniture and soundbars.
So, that's all the good news but how much will popping one of these tellies in your living room cost?
Prices for the A90J 55 start from £2,699 – that's for the 55-inch model. If you want to go supersized then the 85-inch version costs £6,999…ouch!
Sony says yhe BRAVIA XR MASTER Series A90J 4K HDR OLED TVs in 65" and 55" are available to pre-order now with the 83" to follow later this year.