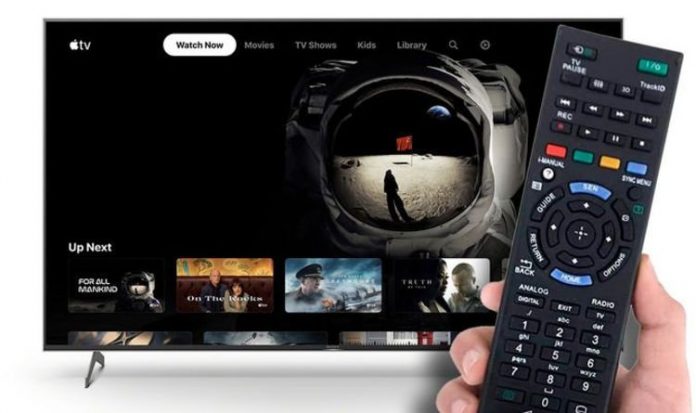 Sony is following in the footsteps of arch-rival Samsung with the launch of a blockbuster feature designed to bring more content to your living room. The Japanese firm is launching the popular Apple TV app across a number of its televisions, which not only means owners can watch all of their iTunes purchases and rentals, as well as stream all of the latest exclusive boxsets and movies from the Apple TV+ subscription service.
This Netflix wannabe launched last year and includes shows like The Morning Show, See, Defending Jacob, Ted Lasso, as well as movies like Greyhound, The Banker, Boys State, and Beastie Boys Story. For those who have bought an iPhone in the last twelve months, Apple throws-in a year-long subscription to TV+. For the rest of us, it costs £4.99 a month.
Until now, those wanting to tune into the Apple TV app on a Sony television would need a separate streaming device, like an Apple TV box or Fire TV Stick, but now you can get everything beamed straight to the home screen without needing any extra accessories.
That means some Sony Smart TV owners can now instantly browse the Apple TV app to buy or rent more than 100,000 movies and TV shows, including titles available in 4K HDR and with Dolby Atmos. There's also personalised and curated recommendations and, as we mentioned earlier, you get full access to your library of previous purchases from Apple.
READ MORE: Sony's new TV upgrade just gave owners a good reason to cancel Sky Q
Sony says that the Apple TV app will begin rolling out today in Europe on Sony's XH90 series via a software update.
Interestingly, since Sony uses Android TV to powers its Smart TV sets – Apple has clearly designed its video on-demand app to work with the Google-developed operating system. However, the Apple TV app will not be available to download from the Google Play Store on your telly. Instead, as mentioned above, it will arrive in a software update for the set.
Since the Apple TV clearly works with the Android TV operating system (Samsung TVs uses the South Korean firm's own Tizen operating system), it's possible we could see the app in the Play Store and available on other Android TVs, like those from Philips, Hisense and others. Not only that, but it could also mean Nividia Shield and Chromecast with Google TV owners could add the Apple TV app to their homescreen too.
There's no word on that happening quite yet, but fingers crossed rivals Apple and Google can work out their differences and get that app on the Play Store for all telly manufacturers.
The Apple TV app will then launch on Sony's select 2018 TV models and most 2019 and 2020 models by the end of the year.
"With Apple TV+, we are presenting all-original stories from the best, brightest and most creative minds, and we know viewers will find their new favorite show or movie on our service," said Zack Van Amburg, Apple's head of Worldwide Video. "Each Apple TV+ original offers its own unique story, fresh perspective and powerful message — all meant to entertain, connect and inspire cultural conversations."
Along with the Apple TV app it's also worth remembering that select Sony TVs also support AirPlay 2 and HomeKit which allows Apple users to easily play videos and other content from their iPhone, iPad or Mac directly to their smart TV.
HomeKit allows customers to easily and securely control Sony's smart TVs using the Home app or by asking Siri on their Apple devices.