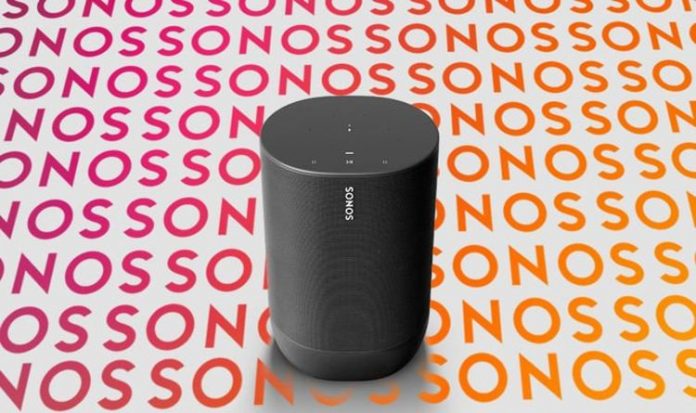 It's no secret that Sonos is hard at work on new models for its range of hugely-popular Wi-FI speakers – after all, the company is always looking to improve its speakers and add new options. Last year, the connected speaker firm unveiled its first Dolby Atmos-equipped sounder, the Sonos Arc. According to a new filing with the Federal Communications Commission, also known as FCC, Sonos plans to follow-up the Arc with one of its smallest speakers.
The FCC filing – an important regulatory step before Sonos is able to sell new products on store shelves in the United States – seemingly reveals its next product will be a twist on its portable Sonos Move which launched in September 2019. The FCC documentation, which was spotted by technology blog The Verge, shows a smaller version of the Sonos Move with a cylindrical design and wireless charging dock.
Like the Sonos Move, the new speaker will seemingly work as a connected speaker when charging on the wireless dock. That means you'll be able to play music, podcasts and radio from the Sonos app on your smartphone or tablet – as well as synchronising playback across the Sonos Move and any other Sonos gadgets in your home, like a Sonos One or Sonos Beam. Like other speakers in the range, Sonos Move is compatible with Apple's AirPlay 2.
As soon as you take the Sonos Move out of the house, it becomes a portable Bluetooth speaker.
MORE LIKE THIS
Sonos owners lose out as Google ditches Play Store Music worldwide
That means you won't need a Wi-Fi connection to stream music. Instead, anyone will be able to pair with the speaker and play music from their favourite streaming service, like Spotify or TiDAL, radio player, or any tracks stored on your device.
The FCC filing confirms the as-yet-unannounced new Sonos speaker will use less power than the Sonos Move – suggesting that it will be a smaller size. It's possible this mini Sonos Move will be closer to the likes of the UE Boom 2, Beats Pill+, or JBL Flip than the original Move. That should make it better suited to be quickly thrown into a backpack, something you'd struggle to do with the 3kg Move. And with the smaller size and smaller battery …we can only assume that Sonos' next speaker will have a smaller price tag to match.
At £399, Sonos Move isn't exactly cheap. Of course, it's both a connected audio system inside the home and a durable water-resistant Bluetooth speaker when taken outside, so you could make an argument that it's two products in a single package – but still, for £399 you could kit out two rooms in your home with the excellent Sonos One SL and still have £41 in your back pocket.
We'd love to see a smaller Bluetooth-enabled Sonos speaker with enough oomph for a picnic in the park (using the existing Sonos Move might be a little overkill) but with a price tag closer to the likes of the UE Boom 2 or Beats Pill+.
The final few details we can eke from the FFC filing is that this forthcoming Sonos speaker will be the first from the firm to include Wi-Fi 5.