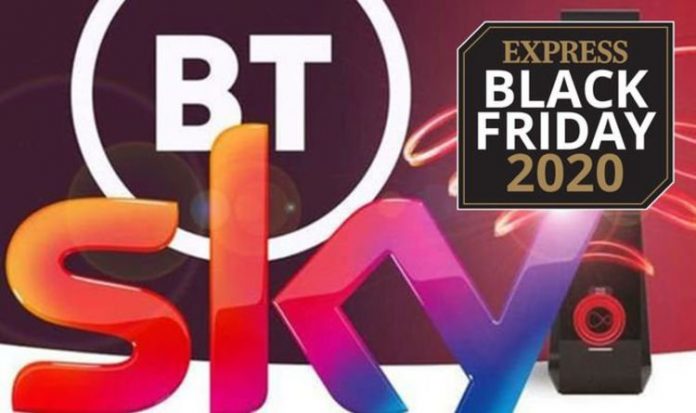 If your current broadband plan is up for renewal, now is a great time to secure a new deal. And you can get a phenomenal deal for the next 18 or 24-months right now as Black Friday sales get underway. All of the major Internet Service Providers (ISPs) are getting in on the action and offering some seriously tempting price cuts with monthly fees cut and even the offer of three months for free.
Virgin Media, BT, Sky and TalkTalk have all announced Black Friday discounts with some big savings to be made on these vital internet connections. Express.co.uk has taken a look at what is on offer and here's our guide to the best deals.
VIRGIN MEDIA: If you want some of the fastest speeds at a lower price then Virgin is definitely a good choice right now. The firm is offering a discount on all of its broadband-only plans with prices starting from as little as £24.99 per month for 100Mbps speeds.
There's also 200Mbps for £30.99, 350Mbps for £36.99 and the ultimate 500Mbps for £42.99. All of these deals last for 18 months and require customers to pay a £35 installation fee.
READ MORE: Virgin Media free broadband speed boost – why your internet could be about to get faster
BT: BT isn't cutting prices but it is offering three months of broadband for free. This deal is available across a range of packages including the firm's Fibre 1 which won't cost a penny for the first three months then £26.99 per month for the rest of the contract – BT says this deal saves customers £114.96.
You can also get free internet on Fibre 2, Fibre 100, Fibre 300 and even the most premium Full Fibre 900 which offers speeds at almost 1Gbps – that's fast enough to download a movie in around 40 seconds.
Customers looking to sign up to Complete Wi-Fi can also get three-months free, saving £30. BT Complete Wi-Fi guarantees reliable W-Fi in every room, allowing customers to browse, stream and game wherever they are in the home.
TALKTALK: TalkTalk's deals run until December 2 and include its Fibre 35 plan for £23.50 per month or Fibre 150 for £32. Like BT, all deals start with three months free meaning you won't have to pay a penny until 2021 and TalkTalk is also boasting that its prices are fixed for the full term of the 24-month contract so things shouldn't increase until 2022.
All of the deals above offer free set-up although there is a £4.95 postage and packaging fee to pay.