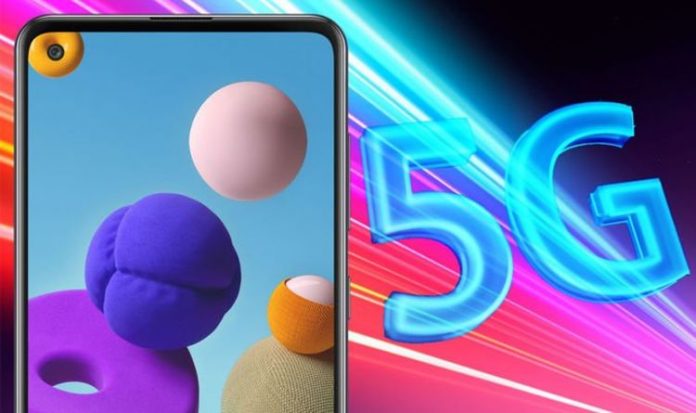 Samsung is rumoured to have plenty of 5G handsets in the works for 2021, and this new wave of Android devices kick starts in January with the upcoming launch of the Galaxy S21. However, not everyone hoping to take advantage of incredibly fast 5G download speeds will be happy forking out for the cost of a flagship handset. If you fall in this camp then the latest Samsung rumour will be music to your ears, with the Seoul-based tech giant rumoured to be working on a 5G phone that will cost less than £200.
As reported by SamMobile, Samsung is aiming to continue making 5G handsets cheaper and more accessible in 2021.
This year the South Korean smartphone maker has already released the Galaxy A51 5G, Galaxy A71 5G, and the Galaxy A42 5G, with the cheapest of these being the Galaxy A42 5G which costs £349 in the UK right now.
But Samsung is reportedly planning on bringing the price of 5G handsets down even further with the Galaxy A32 5G and the Galaxy A22 5G.
The Galaxy A22 5G could launch in the second half of next year, and will be priced around KRW 200,000 – which with the current exchange rates is just over £135.
READ MORE: Latest Samsung Galaxy update brings more adverts to your smartphone
If the Galaxy A22 5G does make it to the UK it remains to be seen if it's that cheap, with its predecessor – the A21 – costing £179 in Blighty.
As per the SamMobile report, the A22 5G is expected to arrive in India and south-east Asian countries first.
It's also been rumoured that Samsung will adopt the joint development production method (JDM) for the A22 5G, meaning development, design and other production processes will be outsourced to other firms.
Samsung will allegedly still be partially involved in the making of the phone, deciding on specifications and other aspects of the handsets.
It's rumoured that the Galaxy A22 5G will use the MediaTek Dimensity 700 processor, and that Samsung has at least eight Galaxy A smartphones set to be released next year.
This cheap and cheerful 5G phone isn't the only way that Samsung could shake-up the Android marketplace in 2021.
Rumours have been swirling around for some time now that Samsung is planning on releasing a foldable smartphone that will have a price tag of less than $1,000.
Arguably one of the biggest obstacles to the success of foldable phones so far is the amount these futuristic-looking devices cost.
But if a Galaxy Fold Lite or Galaxy Fold FE handset does debut with a sub $1,000 price point, then it would cost around the same amount as other flagships with just a single screen.
Handsets that cost around this price at launch include the Huawei P40 Pro, Apple iPhone 12 Pro and Samsung Galaxy S20 Plus.
If Samsung is able to produce a foldable phone that costs less than $1,000 it could considerably drive interest in this area of the smartphone market that so far has been reserved for fans willing to pay top dollar.
And the rumours surrounding the Galaxy Fold Lite are beginning to stack up. Just recently it was claimed by OLED research company UBI Research that Samsung are developing three types of foldable OLED panels right now.
These panels will allegedly be for the Galaxy Z Fold 3, the Galaxy Z Flip 2 and the Galaxy Z Fold Lite.
It has also been claimed, separately, that the Galaxy Z Fold 3 will offer a S Pen support, with some rumours claiming there may not be a new Note handset in 2021.
This all remains to be seen, but if true it could show Samsung has some radical plans in store for next year.