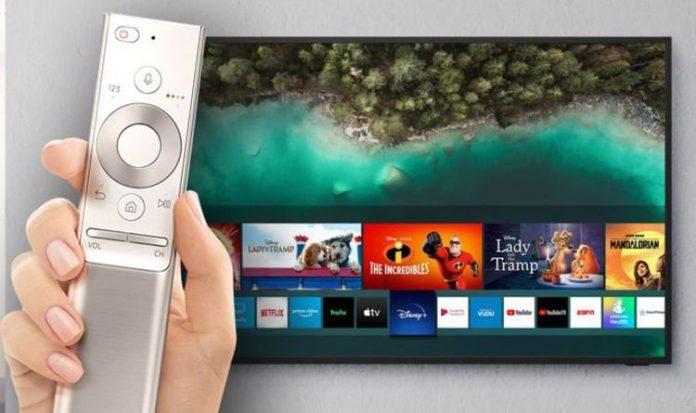 Samsung's TV range appears to be unstoppable right now. With the world in lockdown it seems consumers are upgrading their televisions in record numbers and the Korean technology company is clearly winning the battle for a place in your living room.
New figures from the team at Omdia have revealed Samsung sold a whopping 14.85 million tellies in Q3 of 2020 which is up 22 percent on the previous year.
Another big jump for the firm was the amount of QLED TVs that consumers placed in their homes with it doubling the sales from last year.
QLED TVs are brighter and feature improved colours with Samsung stating that they offer a more realistic viewing experience compared to non-QLED TVs.
So far this year, Samsung has sold a total of 33.92 million televisions and with Black Friday and Christmas just around the corner, this is expected to increase to just under 50 million by the end of the year.
READ MORE: Ignore 4K! Samsung now offers a big new way to watch TV in the UK
So what about Samsung's biggest rivals?
Coming second in the TV sales, according to Omida, is LG with a 11.6 percent share of the market.
Next it's Chinese brand TCL who have secured a 10.9 percent share with Sony and Hisense both close behind.
Although these firms have still sold a lot of TVs this year they are well behind Samsung and clearly have some catching up to do.
Helping Samsung stay one step ahead could be the launch a very inventive lineup this year including its almost bezel-free 8K Q950TS, and the twisting Sero which spins to mimic your the orientation of your smartphone.
The firm also added more tellies to its lifestyle range including the Serif and Frame which are aimed at style-conscious homes.
It's unclear what's next for Samsung but the firm usually reveals its new range at CES in Las Vegas. This global event takes place every January with thousands of tech experts heading to Sin City to check out what's new.
However, due to the ongoing pandemic, it's been moved to a digital-only showcase in 2021.
Whether Samsung and other firms will still unveil their latest gadgets at this very different CES next year remains to be seen but the event will open its virtual doors on January 11.
"Amid the pandemic and growing global health concerns about the spread of COVID-19, it's just not possible to safely convene tens of thousands of people in Las Vegas in early January 2021 to meet and do business in person," said Gary Shapiro, president and CEO, CTA. "Technology helps us all work, learn and connect during the pandemic – and that innovation will also help us reimagine CES 2021 and bring together the tech community in a meaningful way. By shifting to an all-digital platform for 2021, we can deliver a unique experience that helps our exhibitors connect with existing and new audiences."