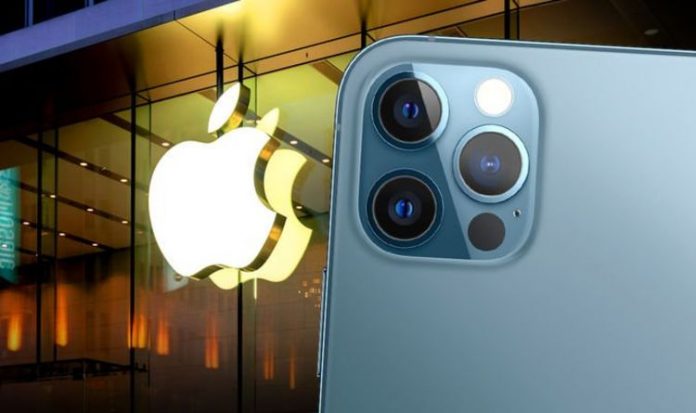 iPhone 12 and iPhone 12 Pro will arrive on shelves nationwide today and those who managed to pre-order the latest smartphone models from Apple will begin to see them dropping through their letterboxes. iPhone 12 and iPhone 12 Pro are the first half of the four new models announced by Apple earlier this month. The next two, the dinky iPhone 12 Mini, and palm-straining iPhone 12 Pro Max, will be available to pre-order in early November.
Those who didn't (virtually) queue to pre-order the iPhone 12 and iPhone 12 Pro on Friday, October 16 could be out of luck today. Checking the Apple Store this morning, it seems both iPhone models – as well as all storage configurations – are currently sold-out. Shipping estimates for online orders are slipping into mid-November …meaning you could be waiting a good couple of weeks to take delivery on the latest iPhone model.
Apple has put a number of Covid-19 safety measure in place at its Apple Store locations, and as of this morning you can order and head to your local store to pick one up in person but those who don't live near an Apple shop may just have to wait a few weeks before getting an iPhone in their hands.
There have been widespread rumours that Apple's iPhone 12 series would trigger a "supercycle" as people who have held onto their handset for the last few years rush to get their hands on the new design, faster speeds, new colours, 5G support, and improved low-light photography. However, it's unclear whether the demand is stronger than last year, or whether the widespread shutdowns caused by a global pandemic have impacted Apple's ability to manufacture handsets and ship them around the world at its usual scale.
There's always a possibility it's a bit of both.
MORE LIKE THIS
Apple iPhone 12 review: Yes, it has been worth the wait
Apple has revealed that Apple Stores will have some stock for those without a pre-order to walk-in and buy today. So anyone who lives or works close to an Apple Store could still have a shot at walking away with the latest iPhone model today. But for the rest of us, there's no alternative but to buy online and patiently wait.
iPhone 12 and iPhone 12 Pro both sport a 6.1-inch Super Retina XDR Display that runs to the very corner of the chassis, while "Pro" owners will be familiar with this touchscreen technology, this is the first time Apple has included it in the more affordable model. Unlocking the iPhone is handled with Face ID, which scans your facial features when you're looking directly at the screen, which can also authenticate contactless payments and launch secure apps, like banking software.
Apple has ditched the curvaceous corners found on every new iPhone since the launch of the iPhone 6 and iPhone 6 Plus back in September 2014. Instead, it has opted for the flat sides and sharper edges found on the iPhone 4, iPhone 5, and most recently, on the iPad Pro and all-new iPad Air. iPhone 12 has an aluminium chassis, while the iPhone 12 Pro uses shiny stainless steel. Both sport slightly different colour options too.
Both are powered by the A14 Bionic, which is the most powerful processor found in a smartphone, and support the new MagSafe standard that allows wireless chargers and iPhone cases and accessories to magnetically snap to the back of the handset.
Apple has improved the water-resistance on both iPhone 12 and iPhone 12 Pro, which can now withstand half an hour under six metres of freshwater without giving up the ghost. Apple quotes 17-hours of battery life when watching video on both handsets and both are protected using the new Apple-developed Ceramic Shield toughened glass that's 4x less likely to smash when you (inevitably) drop it.
But despite all of these similarities, there are a few more differences between these devices. While the iPhone 12 only sports a main wide-angle and ultra-wide camera in its rear-facing set-up, the iPhone 12 Pro has an extra few tricks up its sleeve, including a telephoto camera for lossless zoom up to 4x and a LiDAR depth-sensor to take Portrait Mode images in low-night with Night mode.
iPhone 12 starts from £799 for 64GB of built-in, non-expandable storage, while the iPhone 12 Pro starts from £999.