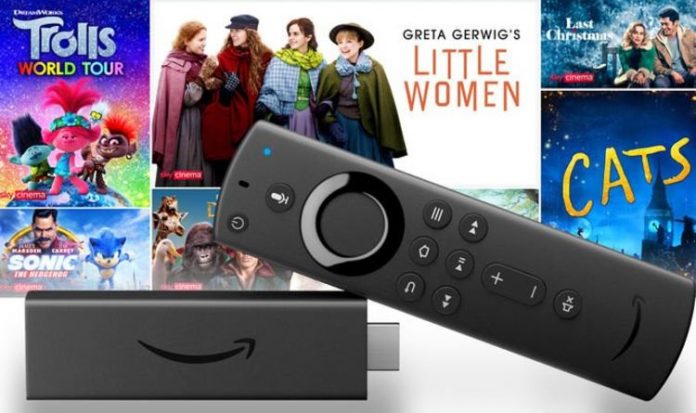 If you're running out movies to watch, then you'll be pleased to know Sky has signed an agreement with Amazon to bring its impressive collection of Hollywood blockbusters and on-demand box sets to the Fire TV Stick for the first time. And better yet, you'll be able to watch all of Sky's linear channels and on-demand content without signing up for a lengthy contract.
That's because Sky is allowing Fire TV owners to watch via its streaming service, NOW TV. The latter offers access to the same catalogue of movies from Sky Cinema, live sports coverage from Sky Sports, and premium channels, like MTV, Discovery, Sky Atlantic, National Geographic, and more – but without a monthly contract.
Instead, viewers buy a prepaid Pass to gain access for a set amount of time. Most of these are one-month, although Sky Sports is available for a smaller 24-hour window. The Entertainment Pass contains a number of hugely-popular paid-for channels, like Sky Atlantic and MTV, while Sky Cinema packs all of the latest movies, Sky Sports offers access to live sporting fixtures, and HayU is reserved for reality telly.
These all vary in price, with the Sky Entertainment Pass setting you back £9.99 a month, while Sky Cinema costs £11.99 a month. For those wanting to watch the latest sporting action, NOW TV has a Sky Sports pass for £25 per month which is a saving of over £5 off the usual price.
NOW TV viewers can pick-and-mix between the bundles of channels between months, so you can catch-up on any Hollywood blockbusters that you might've missed at the cinema this year, before switching to an Entertainment Pass the following month to watch The Undoing, Last Week Tonight With John Oliver, Big Little Lies, Succession, and a number of other must-watch shows exclusive to Sky.
For those who have run out of new shows and movies to watch over the Christmas holidays, the timing couldn't be better. Amazon says the NOW TV app should've rolled out to Fire TV owners across the UK by the end of December. The first devices to get the new app were the Fire TV Stick, Fire TV Stick Lite, and Fire TV Stick 4K which were able to download NOW TV from December 14, 2020.
Like the recent overhaul of its user interface, Amazon seems to be prioritising those who bought the more affordable Fire TV hardware, like the Fire TV Stick, which has an RRP of £29.99 but has been slashed to as low as £17.99 during sales, over its more expensive offerings.
The priciest Fire TV hardware, the Fire TV Cube, which combines the voice-activated smarts of an Amazon Echo Dot with a Fire TV streaming stick will be at the back of the queue for the NOW TV app. The same applies to the redesigned Fire TV software, which brings dramatically improved suggestions based on your viewing history and user profiles to keep your recommendations separate from other household members.
Along with Sky coming to the Fire TV Stick, Amazon is also launching its Prime Video app on Sky Q.
"We're pleased to be bringing our Prime Video app to Sky Q and NOW TV devices in time for the holidays," said Jay Marine, Vice President, Prime Video Worldwide. "With winter settling in, and our new binge-watch obsession The Wilds about to launch, it's a perfect time for Sky customers to catch up on our award-winning Prime Video TV shows, movies, and live sport, including Prime Video's exclusive live broadcasts of over 20 English Premier League games this December. Plus, with NOW TV launching on Fire TV – customers in the UK have never had it better when it comes to choosing what to watch however they are watching."