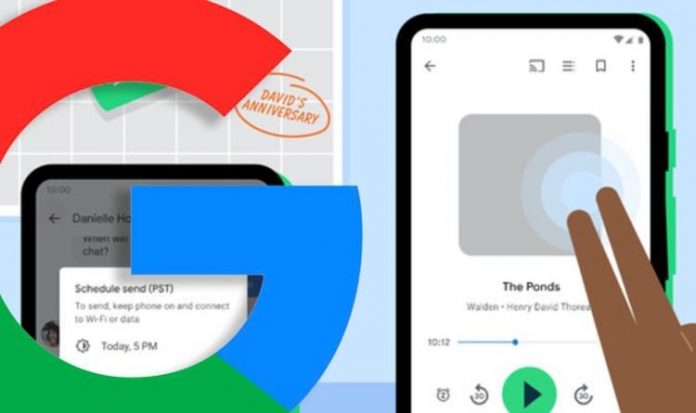 There's some good news if you have an Android smartphone tucked in your pocket. Google has just announced a bunch of new features set to land on devices in the coming months. The upgrades are designed to improve the day-to-day experience with your handset and boost security.
Google has published a blog post with six blockbuster new changes set to roll-out to users worldwide. Perhaps the best of the bunch is the ability to schedule sending a text message. This update basically allows you to bash out a message and then decide when it's going to be sent.
Google says users can use this feature by writing a message, then hold and press the send button to select a date and time to deliver it. To make use of scheduled texts you'll need to download Messages or update to the latest version. Worried that you'll look too keen when replying straight away… but don't want to forget to reply at all? This could be the fix.
Next up there's an important change when saving passwords on your phone. It's nothing new that Android users can save passwords to their Google accounts so they don't have to keep remembering them.
However, there's now a neat update that will instanteously alert users if their passwords have been compromised.
When anyone enters a password into an app on their phone using Autofill with Google, the firm says it will check those credentials against a list of known compromised passwords — that is, passwords that have potentially already been stolen and posted on the web. If the credentials show up on one of these lists, Google will send an alert with a helpful guide to help check passwords and change them to something new.
Another new feature arriving as part of these changes is Google Maps getting a Dark Mode. This should make things a little easier on the eyes when trying to navigate from A to B. Those with a phone that features an OLED screen, such as the iPhone 12 or Galaxy S21, may also find it saves a bit of battery life. This is due to the way that OLED panels works, which doesn't require any power to display jet-black shades of black.
Those that want to switch on Google Maps Dark Mode can head to Settings then tap on Theme and then on Always in Dark Theme.
For those that are fans of using their phones in the car, there's more exciting news. Google has updated its Android Auto service with new features aimed at helping users enjoy the drive more. With custom wallpapers, users can now select from a variety of car-inspired backgrounds to personalise the car's display. For longer drives passengers can also stay entertained thanks to new voice-activated games like trivia and "Jeopardy!" Just say, "Hey Google, play a game" to get started.
Google also says it has launched shortcuts on the launch screen. These provide convenient access to contacts and even allow the use of the Assistant to complete tasks like checking the weather or remotely adjusting the thermostat by simply tapping on the icon on the display.
For cars with wider displays, there's a split-screen option that features a real-time view of Google Maps and media controls. And if for those trips with family and friends, there's now a privacy screen to control so messages don't pop up in front of everyone.
These Android Auto features will be available in the coming days on phones running Android 6.0 or above, and when connected to your compatible car.
The final two upgrades include improvements to the Google Assistant which now works better even when your phone is locked and there's a new version of TalkBack – Android's screen reader.
For those who are blind or have trouble seeing the display, TalkBack makes Android more accessible and opens up a full phone experience without needing to look at the screen.