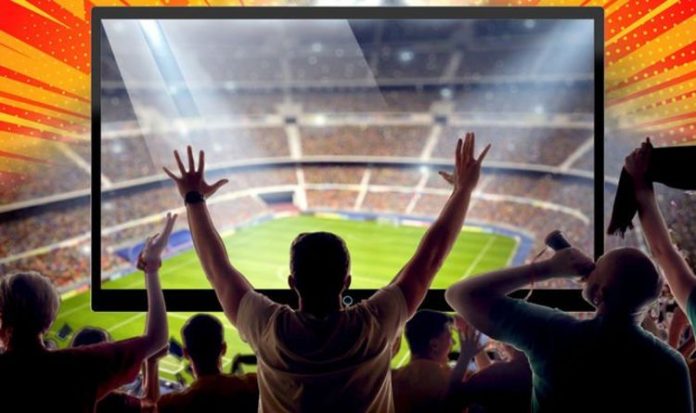 BT Sport has confirmed plans to introduce Dolby Atmos Sound support ahead of the Premier League fixtures this weekend. For those who have invested time and money setting up the perfect home cinema sound set-up, this is going to be a huge boost. Dolby Atmos is a recognised standard for immersive cinematic sound at home, with support from the likes of Apple with its Apple TV and Sky Q.
Dolby Atmos Sound support should make streaming the latest Premier League action, including Brighton v Liverpool, feel more immersive. Of course, there aren't any crowds in the stands right now. However, the Premier League has worked hard to try to recreate the atmosphere of a packed stadium when watching at home. And having a surround sound system with Dolby Atmos support from BT Sport should really help to sell the effect.
BT is no stranger to embracing new technologies, bringing HDR to its live coverage before the competition.
The latest advance, Dolby Atmos, will only work on select supported devices. According to BT, you'll need to be watching on an iOS, Apple TV, Android TV, Amazon Fire TV, or Samsung Smart TV to benefit from the boost. Support for select compatible Chromecast, NOW TV, and Roku set-top boxes will be arriving in the "coming weeks," BT has promised.
READ MORE: BT broadband finally begins to offer something Virgin Media has done for years
Of course, it goes without saying that to enjoy the latest update to BT Sport, you'll need to watch on an Atmos-enabled TV and/or sound system or soundbar, regardless of which of the above streaming gadgets to tune-in.
If you're watching on-the-go, you'll need Dolby Atmos-enabled earbuds or headphones, like the Apple AirPods Pro, to hear the difference.
BT hasn't confirmed whether its BT Sport app on Xbox will be upgraded to support Dolby Atmos. For those who use an Xbox One S, One X, Series S or Series X as their primary means to stream on-demand shows and live streams, that's a little disappointing as all of these consoles already boast support for Dolby Atmos out-of-the-box.
Playstation 5 isn't compatible with Dolby Atmos, so those who have picked PS5 over the new Xbox will need to treat themselves to an Apple TV or Fire TV to benefit from the improved audio.
Speaking about the new upgrade, BT Sport Chief Operating Officer Jamie Hindhaugh said: "BT prides itself on innovation and delivering the best in technology and production to give our viewers a richer experience when watching live sport. The addition of Dolby Atmos audio to our 4K UHD and HDR visuals on the App, provides fans with the best possible audio-visual experience of live sport when they can't be at the game in person. The richer audio quality will add a whole new dimension to the way that fans experience sport, at home or on the move, and ensure they won't miss a moment of the action."
To stream in Ultra HD quality (with the new addition of Dolby Atmos sound), you'll need to pay for the BT Sport Ultimate package. Existing BT Sport customers can upgrade to this top-tier package by coughing up an extra £5 per month, while new customers who subscribe to the BT Sport Monthly Pass for £25 will get access to the 4K HDR stream with Dolby Atmos at no additional cost.